Visitation: 5:00-7:00 p.m. on Wednesday, May 10, 2017 at Fricke-Calvert-Schrader Funeral Home, Lincoln. There will also be a visitation one hour prior to service on Thursday
Service: 11:00 a.m. Thursday, May 11, 2017 at St. John United Church of Christ in Lincoln
Funeral home: Fricke-Calvert-Schrader, Lincoln
Obituary
Mary Frances Kimbrough "Kim" Webb, 99, of Lincoln, passed away on Thursday, May 4, 2017 at her home.

She was born at home in rural Hancock County near Joetta, Illinois on January 29, 1918, daughter of Edward Wyatt and Edna B. Seipel Kimbrough. She received her B.A. from Carthage College in 1939 and taught home economics at Blandinsville High School until her marriage to John L. Webb. They were the parents of four children: Susan of Lincoln, David (Mary Jane Moffat) of Walton, OR; Carol of Lincoln, and Melbourne, Australia; and Jean of
New Haven, CT. All of them survive.

After the death of John Webb, she returned to school at SIU-E and received her master's degree in counseling and guidance. She served as a counselor at North Junior High School in Godfrey, until her marriage in 1977 to her childhood friend G. Albert Webb and moved, along with her mother, Edna B. Kimbrough, to Lawndale. Mr. Webb died in 1998. From this marriage, she gained two sons Alvin (Barbara) of Louisville, KY and Allen (Gayle) of Springfield. They survive.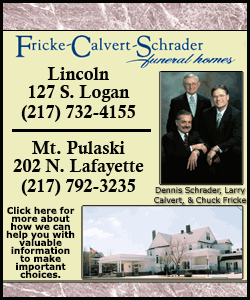 Upon their retirement, Kim and Albert moved to the Christian Village in Lincoln. Throughout their life together in Lawndale and Lincoln, they were active in the St. John UCC Church. Kim is also survived by 5 grandchildren (Jeff, Dawn, Jaixen, Debbie & Becky) and eight great-grandchildren (Stephanie, Nathan, McKenna, Haley, Mariah, Phoenix, Hannah, and Eli) and preceded in death by one great-grandson, Jacob.

Services will be held at 11:00 a.m. Thursday, May 11, 2017 at St. John United Church of Christ in Lincoln, with Rev. Kenneth Kramer, Ryan Edgecombe, and The Rev. Patti Meyer officiating. Visitation will be held from 5:00-7:00 p.m. on Wednesday, May 10, 2017 at Fricke-Calvert-Schrader Funeral Home, Lincoln. There will also be a visitation one hour prior to service on Thursday (10:00-11:00 a.m.)

Burial will take place at Moss Ridge Cemetery in Carthage at 12:00 noon on Friday, May 12, 2017.
Click here to send a note of condolence to the family of Mary Frances Kimbrough "Kim" Webb