Hexagon CEO's share trades were no crime, court hears
Send a link to a friend Share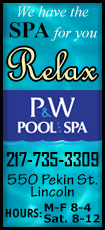 [November 01, 2017] By Ole Petter Skonnord

OSLO (Reuters) - Hexagon Chief Executive Ola Rollen did not commit insider share trading when he bought shares in Next Biometrics in 2015, the Swedish businessman's lawyer told a Norwegian court on Wednesday.

Rollen, one of Sweden's best known business leaders, went on trial this week in Oslo for alleged insider share trading related to a 2015 investment in Norway's Next Biometrics. The transaction did not involve Hexagon itself.

Rollen, who denies wrongdoing, faces up to six years in prison if found guilty.

The case follows a string of scandals among leading companies in Sweden involving alleged bribery, offshore tax havens and the misuse of corporate money that have tarnished the country's clean image.

On Wednesday, defense lawyer Christian B. Hjort said his client did not possess privileged information about Next Biometrics at the time of the share purchase and that the transactions were motivated by his own independent analysis of the company whose products include fingerprint sensors.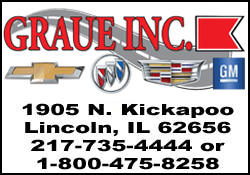 "His plans to buy shares in Next was not insider share trading according to the law," Hjort told the court, in his first remarks to address the prosecution's opening statement.

"It is not an abuse when the investment is made according to his own plans ... What is against the law is when you trade in the market based on other people's plans."

A purchase of some 284,000 shares in Next Biometrics on Oct. 6 and 7, 2015, made by Rollen's partly-owned investment firm Iskossala, amounted to illegal insider trading, police said, as Iskossala was also involved in negotiations with Next to take a larger stake at a higher price.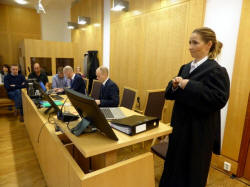 Lead prosecutor Marianne Bender in Ola Rollen insider trading case trial arrives at the district court in Oslo, Norway October 30, 2017. REUTERS/Gwladys Fouche
When a cash infusion was announced a few days later, Next's shares surged 83 percent.
Hjort argued the shares jumped because of Rollen's investments and his strong standing among Swedish retail investors, who started to buy when they saw his move.

"Without Rollen there would be no rise in the share price. It was created by his own investment. That's why there is no abuse of insider information," said Hjort.

On Monday, the prosecution played an audio tape of Rollen discussing with a broker buying Next Biometrics shares via Iskossala and also discussing the potential rights issue.

In charge of Hexagon since 2000, Rollen discarded its old businesses and turned the company into a force in measurement technology and related software, making it one of Sweden's biggest firms worth $17 billion (£12.7 billion).

The trial continues.

(Writing by Gwladys Fouche; Editing by Keith Weir)
[© 2017 Thomson Reuters. All rights reserved.]
Copyright 2017 Reuters. All rights reserved. This material may not be published, broadcast, rewritten or redistributed.