Visual Ink Productions helps supply your graphic design needs
Send a link to a friend Share
LINCOLN
This past spring, Visual Ink Productions, a graphic design business specializing in custom designs for every customer opened on the downtown square in Lincoln.
Owners and sole employees Josh and Sydny Baker said they originally started the business in their basement five years ago, and moved into their downtown location on Pulaski Street in April. The Bakers had always wanted to have a business downtown and said they get a lot of walk through traffic from downtown shoppers.

The Bakers felt there was a need to provide fast service to customers. The purchase of a machine called a Direct-To-Garment Printer allows them to do a quick turn-around on orders and using the printer helps save on screen printing fees.
Josh Baker said they can do both small and large orders. They do many custom orders on items like baby and children's clothing for special occasions such as birthdays and Halloween. Other custom designs can be printed on t-shirts, shorts, sweatpants, hoodies, and polos.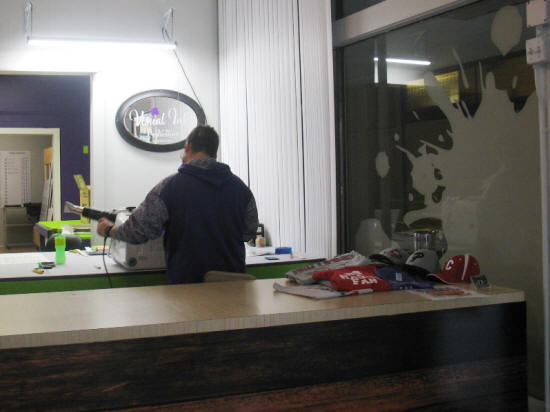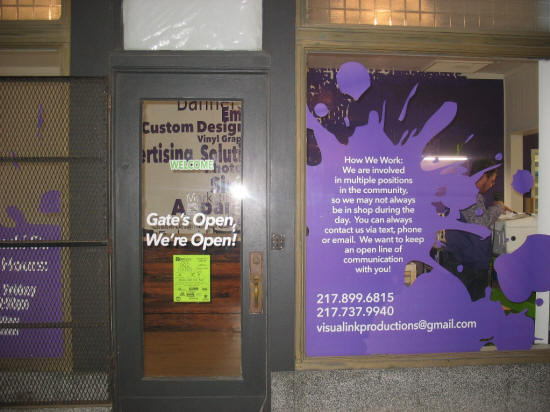 Visual Ink Productions supplies many other graphic designs needs for individuals and businesses. Their services include photo printing, banners, letter boards, message boards, car magnets, indoor décor, vinyl decals, window graphics, and advertising and marketing materials. They also do custom designs for promotional products including koozies, golf towels, lunch boxes, umbrellas, and coolers. Their goal is to "bring your ideas to life."

The business has a digitized embroidery machine that Sydny Baker said can be used for custom designs on jerseys, pullovers, shirts, jackets, and book bags.

For advertising needs, they help businesses determine whether signage or banners are needed.

Marketing materials they design include business cards, logos, and letter heads.

Visual Ink Productions is located on 517 Pulaski Street across from the Arcade in Lincoln and is open from 9-2 Monday through Friday and by appointment in the afternoon. They work on t-shirts at their old location on Lincoln Avenue during the afternoons in addition to making deliveries.

For orders or appointments, call (217)737-9940 or (217)899-6815 or email visualinkproductions@gmail.com

[Angela Reiners]