Graveside Service: 1:00 p.m. Friday, November 3, 2017 at Union Cemetery in Waynesville,
Funeral home: Fricke-Calvert-Schrader, Lincoln
Obituary
Mary Ellen Bristow, 91, of Lincoln passed away on Sunday, October 22, 2017 at The Christian Village in Lincoln.

Mary Ellen was born on August 6, 1926 in Waynesville, the daughter of Everett Paul and Mary Theresa (Krenkel) Huffer. She married Francis Wilson "Mick" Bristow on August 10, 1944 in Atlanta. They lived in Waynesville, Clinton, and then retired in Lincoln. He preceded her in death on January 2, 1981.

Mary is survived by her children, Paul (Melvina) Bristow, Jerry (Terri) Bristow, and Linda (Gary) Nodine all of Lincoln; her sister, B. Sue (Richard) Marcotte of Lexington, SC. Additionally Mary is survived by eight grandchildren and five great-grandchildren.

Mary was preceded in death by her parents and one brother: Charles Everett Huffer.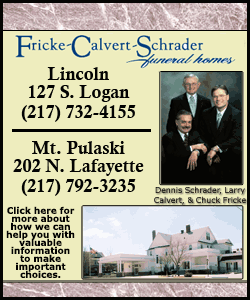 Mary was retired from Lincoln College, DCFS, Fifth Street Dollar Store, and Lincoln Garment Factory Store. She enjoyed crocheting, sewing, and her grandchildren.
A graveside service will be held for Mary at 1:00 p.m. Friday, November 3, 2017 at Union Cemetery in Waynesville, with Ryan Edgecombe officiating.

Memorial donations may be made in Mary's name to The Humane Society of Logan County.

Services have been entrusted to Fricke-Calvert-Schrader Funeral Home, Lincoln.
Click here to send a note of condolence to the family of Mary Ellen Bristow