Visitation: 3:00 p.m. - 6:00 p.m. Saturday, November 4, 2017 at St. John United Church of Christ in Lincoln and one hour prior to the service on Sunday
Service: 2:00 p.m. Sunday, November 5, 2017, at the church
Funeral home: Fricke-Calvert-Schrader, Lincoln
Obituary
Wayne A. Conrady, 86, of Lincoln passed away at 4:40 a.m. on October 29, 2017 at his home at Timber Creek Village, Lincoln.

Wayne was born on December 5, 1930 in Lincoln, son of Benjamin Franklin and Viola Ferne (McChesney) Conrady. He married Lois Elaine Paulus on October 7, 1951. She preceded him in death on July 23, 2014.

Surviving Wayne are his children: three daughters, Elaine Conrady, Lincoln; Carla (Greg) Jurgenson, Atlanta; Jan (Mark) Schleder, Green Valley; two sons, Gary (Valerie) Conrady, Lincoln; and Greg (Lisa) Conrady of Hartsburg; twelve grandchildren, Ryan (Lyndi) Alberts, Alissa (Rob) Smith, Theresa (Justin) Kegley, Leanne (Dan) Walton, Caleb (Jordan) Schleder, Sawyer, Schyler, and Sage Conrady, and Cody, Savannah, Wyatt and Shyanne Conrady, and nine great grandchildren; two brothers: Gene (Joyce) Conrady and Benjamin (Rosemary) Conrady both of Lincoln; one sister-in-law, Alice Paulus. He was preceded in death by his parents, one brother, Harold (Margaret) Conrady, brother-in-law Wilbur Paulus and son-in-law Daniel Hayes.

Wayne graduated from Hartsburg-Emden High School, Hartsburg, and attended Lincoln College of which he served on the Alumni Board.

As owner-operator of Big Oak Farms and Big Oak Hunting Paradise, Wayne's true passions were Family, Agriculture and Civics. If Wayne was not at an event with family, he was out working with livestock or raising crops, or advocating for the rural community, agriculture and natural resources. Through Wayne's lifetime, he was a member of Lincoln Jaycees (Outstanding Young Farmer, 1964), the Logan County Board (Chairman '82-'86), Land of Lincoln Workforce Board (35 yrs.), Lincoln Courier Man of the Year, Lincoln Elks; Logan County Agriculture Toastmasters, Logan County Soil and Water District, Agriculture Advisor to USDA Secretary Edward Madigan, Logan County Pork Producers, Illinois Pork Producers (Pork Promoter of the Year, 2011), Annual Illinois State Fair Pork Patio Cashier, Logan County Angus Association, Illinois Angus Association Director, American Angus Association; Breeder of the Year Logan County Calf Scramble, Pheasants Forever, Quail Unlimited, and a proud NRA member.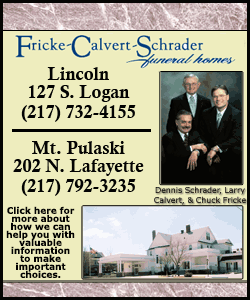 Wayne was an active member of St. John United Church of Christ where he served on Church Council in various leadership roles.
Wayne's love for life was fueled by his active support of children, grandchildren and great grandchildren. His loyalties encompassed Hartem Stags, Lincoln Railers, Midwest Central Raiders and most recently Mount Pulaski Bruins. Livestock shows were his summer highlight, Angus cattle and swine shows. He also enjoyed attending music programs, award ceremonies, and the Farm Progress Show to see his grandsons' contributions to the ag industry. Thank goodness for Face Time so he could interact with his great grandchildren who do not live locally. His greatest joy was food, fun, and laughter as he retreated with the whole family each summer in various locales.

A memorial service for Wayne will be held at 2:00 p.m. Sunday, November 5, 2017, at St. John United Church of Christ in Lincoln with Rev. Kenneth Kramer officiating. Visitation will be at the church from 3:00 p.m. - 6:00 p.m. Saturday, November 4, 2017, and one hour prior to the memorial service. Burial at Hartsburg Union Cemetery will follow the service.

Memorials may be made in Wayne's name to the Logan County 4-H Foundation/Ross B. Conrady Scholarship Fund or Land of Lincoln Workforce (to provide training funds for individuals in need).

Wayne's family would like to thank the staff of Timber Creek and Jennifer Wallace for all the care, love and support that was given to their father.

Services are entrusted to Fricke-Calvert-Schrader Funeral Home in Lincoln.
Click here to send a note of condolence to the family of Wayne A. Conrady