Visitation: 11 a.m. to 12:45 p.m. Thursday, October 26, 2017 at Hope Chapel Nazarene Church in Lincoln.
Service: 1 p.m. Thursday at the church
Funeral home: Preston-Hanley Funeral Homes & Crematory in Pekin.
Obituary
Patricia Lynn Miller, 61, of Logan County, went to be with Jesus at 11:56 a.m. Monday, October 23, 2017 at her home after a seven- year battle with cancer.

Born October 26, 1955 in Pekin to Don and Ruth (McClary) Durbin, she married Robert B. Miller on March 31, 1972 in North Pekin.

Patricia is survived by her husband of 45 years; her parents of Pekin; two daughters, Angela (Trevor) Hall of Tazewell County and Dawn (Keith) DeVore of Logan County; two sons, Robert B. (Yvonne) Miller, Jr., of Anniston, AL and Ryan P. Miller of Middletown; seven granddaughters, Kalyn Miller of Tazewell County, Breena Miller of Peoria, Tricia Johnson of Peoria, Emily DeVore of Logan County, Elsa DeVore of Logan County, Elizabeth DeVore of Logan County and Kaylee Miller of Taylorville; five grandsons, TJ Hall of Tazewell County, Travis Hall of Tazewell County, Sam DeVore of Logan County Ryan Miller, Jr. of Taylorville and Cody Reynolds of Pekin; one great-granddaughter, Madison Mullins of Peoria; one great-grandson, Jayden Mullins of Peoria; four sisters, Pam Barrett of Peoria, Debra Mason of Lebanon, KY, Judy Bryan and Renae Hall, both of Pekin and one brother, Jim Durbin of Dallas, TX.

She had worked at New Holland Banking Center, Middletown/New Holland School, and Villa West in Sherman.

A devoted wife, loving mother of four, caring grandmother of 12 and proud great grandmother of two.

Pat loved homemaking and nature and was a Master Gardener, a Master Preserver, and the Middletown arborist. She was a talented musician with God given talent as a singer and a musician. She performed at church services and with the Prairie Aires, in addition to singing beautifully, she also played the piano, organ, violin, dulcimer, and guitar.

She was devoted disciple of God, where she co-founded the Little Chapel in Middletown, where she served as lay-pastor and she was a lifelong Nazarene with membership at the Hope Chapel Nazarene Church in Lincoln.

Her funeral will be at 1 p.m. Thursday, October 26, 2017 at Hope Chapel Nazarene Church in Lincoln. Pastor Greg Wooten will officiate. Visitation will be from 11 a.m. to 12:45 p.m. at the church. Burial will be at Pleasant Valley Cemetery in Logan County.

Memorial contributions may be given to Hope Chapel Nazarene Church, 2501 Woodlawn Rd., Lincoln.
The most precious woman, loved and cherished, Pat is with Jesus and remains in our hearts.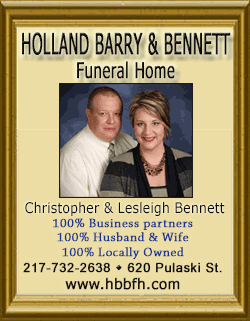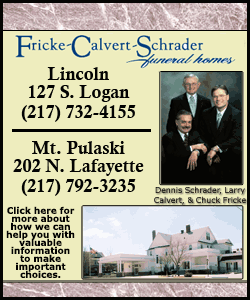 "Well done my good and faithful servant."

Yet and still:
She walks in beauty, like the night
Of cloudless climes and starry skies;
And all that's best of dark and bright
Meet in her aspect and her eyes:
Thus mellowed to that tender light
Which heaven to gaudy day denies.

One shade the more, one ray the less,
Had half impaired the nameless grace
Which waves in every raven tress,
Or softly lightens o'er her face;
Where thoughts serenely sweet express
How pure, how dear their dwelling place.

And on that cheek, and o'er that brow,
So soft, so calm, yet eloquent,
The smiles that win, the tints that glow,
But tell of days in goodness spent,
A mind at peace with all below,
A heart whose love is innocent!

"She Walks in Beauty" – Lord Byron
Arrangements have been entrusted to Preston-Hanley Funeral Homes & Crematory in Pekin.
To express condolences online, visit www.preston-hanley.com