Exclusive: Philippines' PT&T seeks partners for broadband, cell services, talks to Chinese firms
Send a link to a friend Share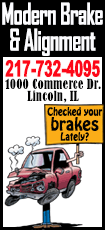 [November 21, 2017] By Neil Jerome Morales and Karen Lema

MANILA (Reuters) - Philippine Telegraph & Telephone Corp is talking to Chinese companies about forming strategic partnerships as part of plans to turn a niche player into a force in the domestic telecoms market, its chairman said on Tuesday.

Salvador Zamora told Reuters PT&T expects to sign a deal by Dec. 15 with ZhongXing TianTong Technology Co Ltd to provide broadband services, and wants foreign partners to provide expertise, infrastructure and capital for internet expansion and a new cellular services.

"We are actually talking to eight possible Chinese partners. Most probably, we'll end up with the Chinese. Most are telco, mostly involved in broadband and cellular," he said in an interview.

They include China Telecom <0728.HK> and Datang Telecom <600198.SS>, PT&T officials said. Those companies did not immediately respond to request for comment.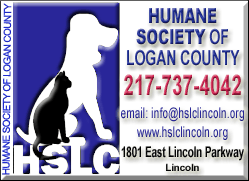 Zamora in August bought into the little-known, debt-ridden firm for just 264.9 million pesos ($5.23 million).

PT&T is listed on the Philippine Stock Exchange and provides broadband services in Manila and adjacent provinces. Trade in its shares was voluntarily suspended as long ago as 2004, however but Zamora said the firm was working towards resuming trade.

PT&T is looking for strategic partners to expand its broadband and launch cellphone operations in the next few years, which would end a Philippine duopoly that critics say has stifled competition and resulted in poor quality services and patchy voice and data, he added.

Zamora, whose business interests include mining, real estate and energy, wants to turn the firm into a formidable competitor in a local telecoms market that consumers have long complained about.

"We will not just be content to be the third telco. We want to be second, and then perhaps even first, if we are able to satisfy our customers," he said.

The country's main telecoms firms, PLDT Inc <TEL.PS> and Globe Telecom Inc <GLO.PS> effectively control a market worth about $5.3 billion by annual revenue. The constitution's 40 percent cap on foreign ownership of domestic telecoms companies has kept interest from multinational firms at bay in the market of over 100 million people.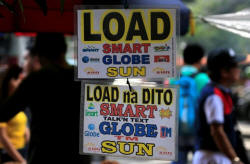 An advertisment at a loading station for call and text message credits for local telecommunications companies hangs at a store along a sidewalk in Metro Manila, Philippines November 21, 2017. REUTERS/Romeo Ranoco
Last year, they joined forces to buy a prized mobile spectrum for $1.5 billion from a potential rival, San Miguel Corp, consolidating their duopoly on the Philippines' telecoms market.

Both companies have said they welcome competition and are making upgrades to improve services.

Zamora's confirmation of PT&T's engagement with Chinese firms comes after President Rodrigo Duterte offered China the "privilege" of being his country's third telecoms operator, following through on a threat he made last year to Globe and PLDT to shape up, or face competition.
Zamora described Duterte's move as a "Godsend", adding that Chinese companies could not operate alone in the Philippines and would need to partner with a local firm.

Duterte's administration is seeking to set up a national broadband network and is eager to boost internet penetration and bandwidth in a country known for having some of the slowest speeds in the Asia-Pacific.

"The market is so vast here. It seems the competitors, the duopoly, they are not at all customer-oriented," Zamora said.

"Even the president complains about them. Everybody complains about them but still they continue their poor service."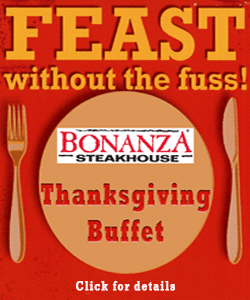 ($1 = 50.6360 Philippine pesos)

(Additional reporting by Manolo Serapio Jr in MANILA and Sijia Jiang in HONG KONG; Editing by Martin Petty/Keith Weir)
[© 2017 Thomson Reuters. All rights reserved.]
Copyright 2017 Reuters. All rights reserved. This material may not be published, broadcast, rewritten or redistributed.