Scientists solve the mystery of America's scuba-diving fly
Send a link to a friend Share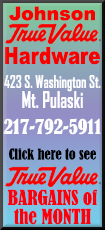 [November 21, 2017] By Will Dunham

WASHINGTON (Reuters) - A small fly that thrives at an inhospitable California lake east of Yosemite National Park long has perplexed observers who watch as it crawls into the severely salty and alkaline water, snacks on some algae or lays some eggs, then emerges dry as a desert.

Research published on Monday finally explains the secrets of this scuba-diving insect.

These quarter-inch-long (6-mm) alkali flies possess specialized traits that let them conquer Mono Lake, scientists found. They are covered in a large quantity of fine hairs coated with special waxes that let them encapsulate themselves in a body-hugging bubble that protects them from water that would doom an ordinary insect.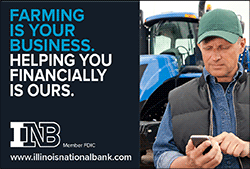 "The flies have found a great gig -- all the food they want with few predators. They just had to solve this one tricky problem," said California Institute of Technology biologist Michael Dickinson, co-author of the study in the Proceedings of the National Academy of Sciences.

All insects are hairy and water repellant to some degree. These alkali flies, whose scientific name is Ephydra hians, have magnified both traits to overcome the extreme conditions of Mono Lake, considered among the "wettest" water on Earth with a slippery, nearly oily feel. The water tends to attach to any surface due to exorbitant amounts of sodium carbonate, a chemical used in laundry detergent.

"The study provides a clear example of evolution in action," added co-author Floris van Breugel, a former Caltech postdoctoral scholar now at the University of Washington.

[to top of second column]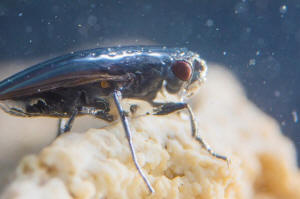 An alkali fly creates a protective bubble in order to dive in Mono Lake, California, U.S. in this June 2017 photo released on November 20, 2017. Courtesy Floris van Breugel/Caltech/Handout via REUTERS
"The flies have evolved to crawl under water so they can feed on the abundant food, alga, that grows there. The lake has no fish because the fish cannot live in the harsh chemicals of the lake. Thus, the flies have no major predators in the lake. Fish are why most insects would be crazy to crawl under water."

American author Mark Twain was among those who remarked about these flies at the 12-mile-wide (19-km) Mono Lake, which is three times saltier than the Pacific Ocean. They also live at Oregon's Lake Abert and Utah's Great Salt Lake, also salty and alkaline.

The flies use sharp foot claws to crawl into the water from rocky outcroppings. Their hairy bodies trap a layer of air that envelops them in a protective bubble, except for the eyes to permit good underwater vision. After eating or laying eggs, they let go and float to the surface, where the bubble pops, leaving them safe and dry.

(Reporting by Will DunhamEditing by Sandra Maler)
[© 2017 Thomson Reuters. All rights reserved.]
Copyright 2017 Reuters. All rights reserved. This material may not be published, broadcast, rewritten or redistributed.