Lincoln Daily News
welcomes letters of appreciation, information and opinion on matters pertaining to the community.
As a community we need to be able to talk openly about matters that affect the quality of our lives. The most effective and least offensive manner to get your point across is to stick to the issue and refrain from commenting on another person's opinion. Letters that deviate from focusing on the issue may be rejected or edited and marked as such.
You may also send your letters by email to ldneditor@lincolndailynews.com
or by U.S. postal mail:
Letters to the Editor
Lincoln Daily News
601 Keokuk St.
Lincoln, IL 62656
Letters must include the writer's name, telephone number, and postal address or email address (we will not publish address or phone number information). Lincoln Daily News reserves the right to edit letters to reduce their size or to correct obvious errors. Lincoln Daily News reserves the right to reject any letter for any reason. Lincoln Daily News will publish as many acceptable letters as space allows.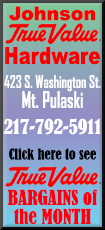 To the editor:

Another mass shooting. This time at a church in a small town in Texas. This time there's 26 dead, including a 5 year old child, and the pastor's own 14 year old daughter. Again the weapon is an assault weapon that the gunman bought no questions asked at a sporting goods store. He was discharged from the Army for "anger issues" and had a criminal record for child abuse. And, he hated "religious people".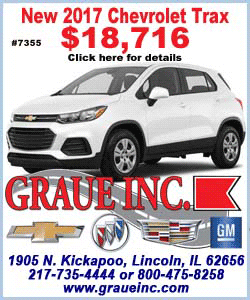 What is the common denominator in all these mass shootings. Military grade assault weapons! Already Trump has dismissed the shooter as "deranged" although there's been no professional diagnosis revealed. But, Trump and the NRA refuse to look at the real cause.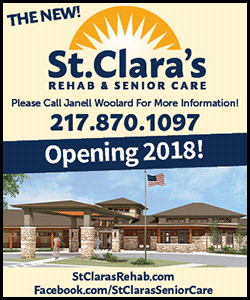 Disappointingly, our own legislature failed most recently to pass the "bump stock" law, caving to pressure from the NRA lobbyists. So far, not one piece of legislation to protect people, who are in school, church, theaters, concerts....on and on.
I feel this incident since I live in a small town, such as this town in Texas. We lull ourselves into a state of complacency and the belief that "it would never happen here." Now we see it can.
What can we do? Call or write your state legislators as well as US Rep. Darin LaHood at 202) 225-6201 n DC or 217) 670-1653 at his Springfield office.

Rebecca Drake
Chestnut, Illinois
[Posted November 7, 2017]