Factbox: Trump on Twitter (Nov 29) - Stock Market, Matt Lauer
Send a link to a friend Share
[November 29, 2017] The following statements were posted to the verified Twitter accounts of U.S. President Donald Trump, @realDonaldTrump and @POTUS.
The opinions expressed are his own. Reuters has not edited the statements or confirmed their accuracy.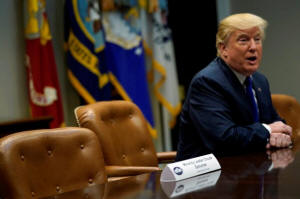 President Donald Trump, surrounded by empty chairs marked for U.S. Senate Minority Leader Chuck Schumer (D-NY) and House Minority Leader Nancy Pelosi (D-CA), who chose not to meet with Trump, Senate Majority Leader Mitch McConnell (R-KY) and House Speaker Paul Ryan (R-WI), speaks with reporters at the White House in Washington, U.S. November 28, 2017. REUTERS/Jonathan Ernst
@realDonaldTrump :

- @foxandfriends, we are in record territory in all things having to do with our economy! [0632 EST]

- Great, and we should boycott Fake News CNN. Dealing with them is a total waste of time! [0649 EST]

- Looks like another great day for the Stock Market. Consumer Confidence is at Record High. I guess somebody likes me (my policies)! [0703 EST]

- Wow, Matt Lauer was just fired from NBC for "inappropriate sexual behavior in the workplace." But when will the top executives at NBC & Comcast be fired for putting out so much Fake News. Check out Andy Lack's past!
(Compiled by Bengaluru bureau)

[© 2017 Thomson Reuters. All rights reserved.]

Copyright 2017 Reuters. All rights reserved. This material may not be published, broadcast, rewritten or redistributed.