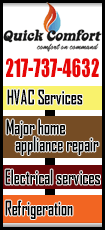 But, sometimes, when families look at the long list of things that have to be done in that 30 day period, Christmas becomes less about joy and more about obligation. Shopping has to be done, there are church events, school events, work events, cooking, baking, decorating, and planning family events, which can be like working out a jigsaw puzzle when there are multiple generations or step-families involved.

While all this is necessary, what you may really need is a little downtime. But even that can be hard to do. When you would like to curl up on the sofa with a warm blanket and just relax, you can't because all you think about is that long list of things to do, and how much time you are now wasting not doing anything.

So, maybe you should get your "downtime" by getting out of the house and doing something that you don't feel like you have to do, something just for fun. Adding to your pleasure, most all of these items are budget friendly with admission being either free or very reasonable rate.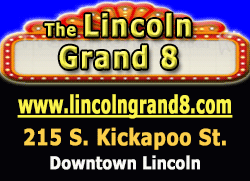 Put a little Christ in Christmas

Each year, Lincoln Daily News publishes a worship guide to go along with the Christmas season. It's filled with special events going on at local churches. This year the guide is expected to publish on December 6th and will be online through the Christmas season. We encourage you to look through it for special church events, and also inspirational messages from local pastors. We'll draw your attention to a couple events.

Lincoln Christian Church Nativity Walk - December 9th from 1 p.m. to 2 p.m.

This event will feature hundreds of nativity sets for you to walk among and enjoy. After the walk stay for the church Christmas Concert. No admission, free-will donations accepted.

Christmas Candlelight Service at Elkhart Chapel

This annual tradition is being held on December 2nd at 2 p.m., 4, 5:30 and 8 p.m. The event is open to the public but does required a paid registration.

Everyone loves a parade!

While we often think of parades as being a great event for kids, the truth of it down deep, anyone who allows themselves to really get into it can enjoy a parade, especially at Christmas time. Parades can be filled with lights and magic, and of course almost always hold the promise of Santa's arrival in town.

In our area there are several holiday parades to attend. All of a night, the highlight of these parades, in addition to Santa, give opportunities to see the creative imaginations of our friends and neighbors and how they do it up right, with Christmas lights!

Local parade schedules

Lincoln – Thursday, December 7th – 6:30 p.m.
Santa will visit the Logan County Courthouse after the parade.

Mount Pulaski – Friday, December 8th – 5:30 p.m.
Santa will visit the Mount Pulaski Courthouse after the parade.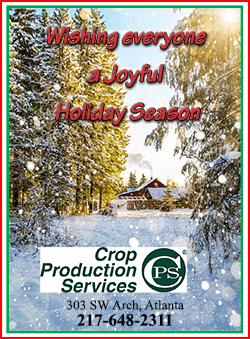 New Holland Christmas Festival 5 p.m. to 8 p.m.
Tree lighting at 5 p.m.
Christmas parade at 6 p.m.
Hot chocolate and a special guest, not saying who, but he's showing up other places and been here before, will visit the Firehouse after the parade.
Attend a concert

Christmas carols and hymns can really add to the spirit of Christmas. Again, there are several special events that will be listed in our holiday worship guide, but we'll draw your attention to a couple of others.

[to top of second column]
Logan County Churches presents "Carols, Choirs and Christmas"
Sunday December 10th at 7 p.m. at Immanuel Lutheran Church in Lincoln.
Lincoln Area Music Society Winter Concert
Saturday December 16th at 7 p.m. and Sunday December 17th at 2:30 p.m.
Lincoln Community High School Auditorium.
Attend a tree lighting

There will be a tree lighting ceremony in Mount Pulaski on December 1st. The lighting will take place at 6 p.m. at the Mount Pulaski Courthouse. Immediately afterward will be the annual Christmas Tree Auction held at the historic Mount Pulaski Courthouse in the second floor Courtroom.

There will also be a tree lighting ceremony in Beason this year. The event will be held at the city park on December 2nd at 6 p.m.

Go on a hot chocolate adventure

When taking a road trip, the greater expense may not be in the travel, but in the stops for food and drink. This year, mix up a batch of hot chocolate, bag up some snacks and go for a drive to see the Christmas lights.

The city of Mount Pulaski holds a home decorating contest at Christmas time. The deadline to enter homes is December 6th, so any time after that, a drive around the town will probably yield the opportunity to see some fun and beautiful decorations.

All around the county, people decorate with lights, inflatables, wreaths and so much more. Forget having a plan, just grab the treats and point the car in one direction or the other and see where it leads.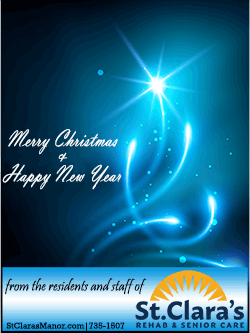 Now, if you are looking for something structured, we do offer one suggestion. Take a trip out of town to the Folepi's Winter Wonderland in East Peoria. There is a charge of $10 per vehicle. But if there are four or more in the car, that is a pretty cheap evening (if you don't count the gas).

Folepi's is a drive thru Christmas light display that has hundreds of thousands of lights in a wide variety of displays. The event runs nightly through December 31st. Visit this website to learn more - http://www.cityofeastpeoria.com/festival-of-lights/

This is only a few suggestions, there are dozens more that we could offer based right here in our own community. Throughout the season, many of these events will be listed in Lincoln Daily News, so keep your eyes open for such announcements in our daily editions.

And remember, Christmas is about joy, not obligation, so find that downtime you need, and relax and experience the joy!