Global deal on bank capital rules likely: EU official
Send a link to a friend Share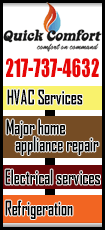 [November 30, 2017] By Huw Jones and Lawrence White

LONDON (Reuters) - A deal on global bank capital rules is likely next week, a senior European Commission official said on Thursday, though the compromise that will emerge will be tested for its impact on the EU's economy.

The oversight body of the Basel Committee of banking supervisors meets on Dec. 7 and is expected to sign off on final elements of the Basel III package of bank capital reforms.

"We do now look as if we are heading to an agreement," John Berrigan, deputy director general for the commission's financial services unit, told a Financial Times conference.

"We will want to do an impact assessment to see how it impacts the EU economy."

The Basel rules are not binding on members such as the EU, which can still tweak them during implementation.

Berrigan said there will be checks to ensure there is no "excessive" impact on the ability of banks in the bloc to keep lending to the economy.
Michael Cole-Fontayn, EMEA Chairman of U.S. bank BNY Mellon <BK.N>, said the rules will require "a very long transition period".

The rules aim to ensure that banks using their own models to calculate capital buffers are not allowed to be too optimistic in their arithmetic.

This is done by setting a "floor" of minimum capital levels, irrespective of the level indicated by a bank's own model.

But the new regulations could lead banks in Europe to more risk taking because they have to hold a certain amount of capital in any case, a senior French banker told the conference.

"European banks in general typically keep more safe assets in their balance sheets, so moving to a capital floor will incentivize European banks to move away from safe assets on the balance sheet and to move to riskier assets to get an adequate return," said Eric Litvack, head of regulatory strategy at Societe Generale <SOGN.PA>.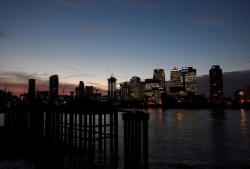 The Canary Wharf financial district is seen at dusk in London, Britain, November 17, 2017. REUTERS/Toby Melville
The deal on Basel rules took more than a year as Europe and the United States fought over the capital floor compromise.

BALKANIZATION

The Basel compromise draws a line under post-crisis rulemaking based on a consensus among the Group of 20 economies in 2009 after undercapitalized banks had to be bailed out.
However, U.S. President Donald Trump has ordered a review of rules prompted by the financial crisis, saying they inhibit lending to the economy, raising concerns that the global regulatory consensus of the past decade is now fracturing.

Banks worry this could create an unfair playing field and bump up compliance costs, but Berrigan said "political whims" have yet to be translated into actual policy changes.

"Our view in the Commission is not to react to rhetorical flourishes but to wait and see what happens. There is not yet evidence of a huge pullback of consensus on global cooperation," Berrigan said.

Mark Yallop, a board member at the Bank of England's Prudential Regulation Authority, supported that view.

"I am not sure I do agree there is evidence of fracturing," he said.

(Editing by David Goodman)
[© 2017 Thomson Reuters. All rights reserved.]
Copyright 2017 Reuters. All rights reserved. This material may not be published, broadcast, rewritten or redistributed.