Send a link to a friend Share
October 2017
---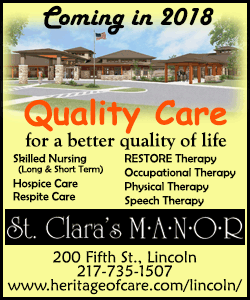 Tuesday, October 31
Trick or Treat Night in Lincoln
5 p.m. to 8 p.m. - Trunk or Treat at Open Arms Christian Fellowship parking lot
Blood pressure screenings
HOSTED BY: Abraham Lincoln Memorial Hospital
WHO: Public
DETAILS: Free blood pressure screenings are available every Tuesday.
WHERE: Wombacher Room at ALMH, 200 Stahlhut Drive
WHEN: 9 a.m. to noon
LCU commemoration of the Reformation
HOSTED BY: Lincoln Christian University
WHO: Public
DETAILS: See announcement in Lincoln Daily News
WHERE: Earl C. Hargrove Chapel at Lincoln Christian University
WHEN: 9:30 a.m.
Tuesday Night Bingo at the Oasis
HOSTED BY: Oasis Senior Center
WHO: Public (membership not required)
DETAILS: Come early for dinner then enjoy an evening of Bingo. We will offer large jackpots and a great atmosphere!
WHERE: Oasis Senior Center, 2810 Woodlawn Road, Lincoln
WHEN: 5 p.m. Dinner service; 6:30 p.m. Bingo
Trick or Treat at St. Clara's Manor
HOSTED BY: St. Clara's Manor
WHO: Public / children
DETAILS: Be sure to stop by St. Clara's Manor on Fifth Street and show off you costumes to our residents, who will have candy and other treats for your baskets
WHERE: St. Clara's Manor, Fifth Street, Lincoln
WHEN: 6 p.m. to 7 p.m.
October | November
---