Mount Pulaski keeping the memory of Evan Connor alive

Send a link to a friend Share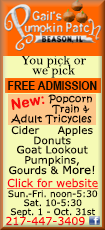 [September 02, 2017] It was just a week ago that the Mount Pulaski community woke up to the tragic news that Evan Connor had been killed overnight in a single car accident near Latham. Connor, a 2017 graduate of MPHS, was a 19-year old kid who touched more lives in his short time spent here on earth than the average person.

As a youngster he was a fixture at the local restaurant on the square in Mount Pulaski and even ran up a breakfast tab of $300 one month (which may actually be a low estimate) because even though Evanís dad, Steve Connor, had told his son it was okay to run up a tab and he would take care of it, he didnít know Evan was feeding his friends, too.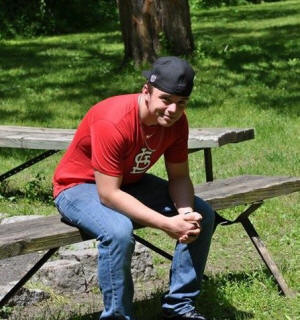 Evan was also a familiar face at Logan Lanes in Lincoln and he was an outstanding bowler. He once bowled 299, and while some may have been a bit dejected that he didnít make that elusive score of 300, Evan himself was elated at his accomplishment.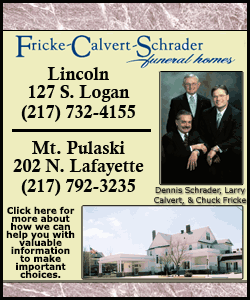 As Evan entered high school, he quickly became a faithful follower of the Mount Pulaski Hilltoppers and often led the purple and gold student section in support of all the athletes. He was a chip off the old block when it came to his love for the Hilltoppers. His grandpa, the late David Drake, always sat on the sidelines, encouraging the student-athletes up and down the court, and Evan would do the same. He was even a manager for basketball coach Ryan Deibert and his Hilltopper squad. Deibert and his team plan on paying tribute to Evan during this upcoming basketball season.

Evanís personality fit the public well in Mount Pulaski. He was a young man but yet had an old soul. He never met a stranger. He knew everybody. He was that little boy who held the door open for everybody. He was that young man who enjoyed hearing stories - no matter how far-fetched - from the older generation.

Evan worked at Farmerís Family Restaurant while in high school and eventually moved on to being a cook at The Old Brickyard Grill and Pub. At both places he was always popping out of the kitchen to say hi to folks. He had a smile and a kind word for everyone. And a hug. He was a hugger. He loved life and the people in his life.

And, oh, there were so many people in his life. Over the past week social media was flooded with tributes to Evan. Kids shared messages from Evan. Seems like he was always checking up on his friends to make sure they were doing okay. His positive attitude has undoubtedly left a mark on his friends. All this from a young man who had a few struggles along the way but never let those get in the way of being a good friend.

Evanís mom, Renay Anderson, was so appreciative this week of the support shown to her and her family by the community. She acknowledged that Evan was the perfect example that it truly takes a village to raise a child.
A village that is now hurting at yet another loss that has left a huge void, but can find comfort knowing that Evan is watching over them. There is a good chance heís got a big smile on his face, his arms are open wide ready for hugs and itís a safe bet he's proudly wearing a St. Louis Cardinals t-shirt.

Fly High, Evan!
Two upcoming fundraisers are planned in Mount Pulaski for Evan Connor

The Old Brickyard Grill and Pub Fundraiser

This Sunday, September 3rd The Old Brickyard Pub and Grill on the square in Mount Pulaski is having a luncheon benefit for Evan Connor from 11 a.m. until 1 p.m. They will be serving pulled pork sandwiches, baked beans and potato salad. The price is a donation and all the money will go towards Evanís expenses/funeral/headstone funds. Please spread the word. Use the driveway. All vehicles will be vacated so you can drive up to the tent and get your food and go home. Thank you so much!

Mount Pulaski Hilltopper Volleyball Team Fundraiser

The volleyball team is planning a Spaghetti Dinner Benefit on Thursday, September 7th at the high school cafeteria. The dinner will be served from 5 p.m. until 6:30 p.m. and the cost is donation. All proceeds will go to the family of Evan Connor. The Hilltoppers take on Greenview at 6 p.m. on the volleyball court.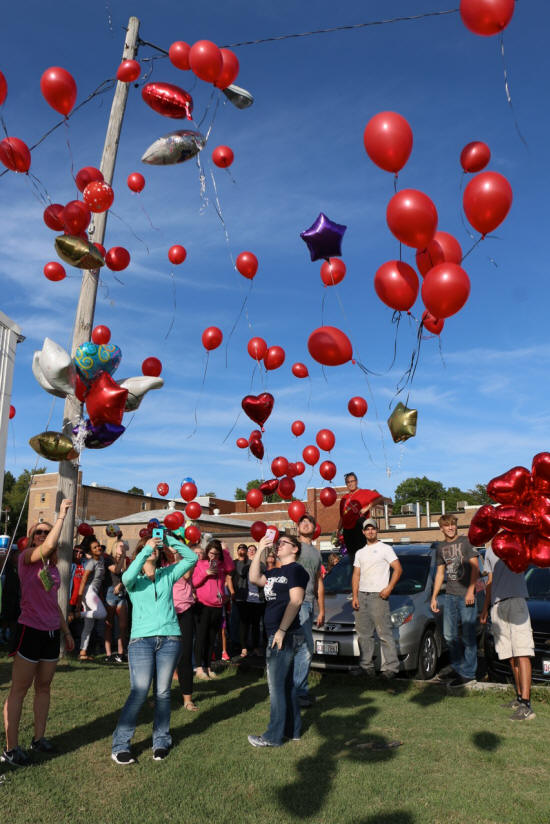 Family and Friends Gather to Launch Balloons in Evan Connor's Memory

Friday evening at the Mount Pulaski High School parking lot, family and friends came together to launch balloons into the sky in Evanís memory. The evening was so peaceful, and everything Evan would have enjoyed. You see, Evan had lost a beloved grandfather and a dear step-dad in his lifetime and he loved to launch balloons in memory of his loved ones. On this evening, family and friends honored Evan with mostly red balloons. Red like his beloved Cardinals. Shortly after 5 p.m. the wind was just perfect for the releasing of the balloons.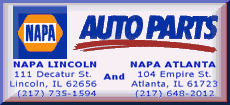 The balloons floated away from Mount Pulaski while the song, ďDancing in the SkyĒ played in the background. That song by Dani and Lizzy had been played earlier in the week at Evanís funeral. The many tears shed and hugs felt in that parking lot made everyone well aware of Evanís impact. An impact that will last a lifetime on this earth. Thank you, Evan.

[Teena Lowery]