Locally organized collection of supplies for Hurricane Harvey recovery enroute to Texas on Tuesday

Send a link to a friend Share
[September 05, 2017] LINCOLN -
Lisa McDonald, a former Texan, had a broken heart after talking to friends and seeing pictures of the devastation following Hurricane Harvey.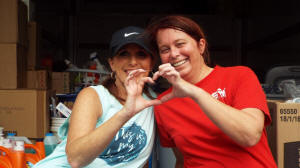 Lisa McDonald and Nicole Corso
So, together with her husband, Andy, and Lincoln resident, Nicole Corso, Lisa set out to do something to help her friends who had lost everything.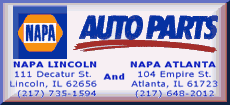 On the way to work, Lisa heard on the radio about Midwest Mission Distribution Center located in Chatham, IL. MMDC was working with other organizations in the Houston area and shared that cleaning items and personal items were at the top of the list of needed supplies in the flooded areas of Texas. Lisa contacted Lincoln Christian Church and asked permission to park Andy's truck in the parking lot on Monday, September 4th to collect supplies, which would then be hauled to Chatham, transferred to semi's, and transported to Houston on Tuesday.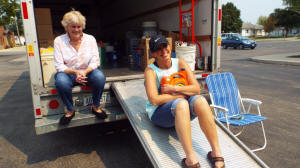 Barb O'Donohue and Lisa

LCC agreed to help, along with other area churches, Lincoln Community High School, Sorrento's, and other local businesses posted the list of supplies and encouraged people in Lincoln and Logan County to give. Having such a great response, Lisa and Andy decided to rent a U-haul truck to collect the supplies.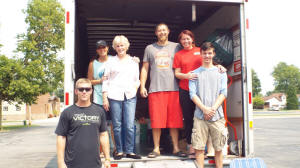 This weekend, volunteers coordinated collecting items to aid Texans in recovery following the devastating mess left by Hurricane Harvey, left to right: Andy McDonald, Lisa McDonald, Barb O'Donohue, Shaun Worth, Nicole Corso and Codi McMay.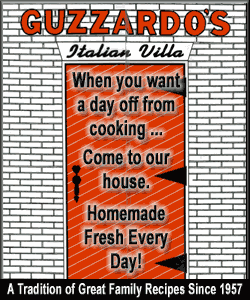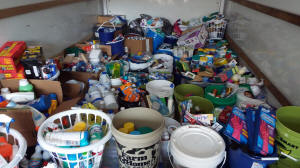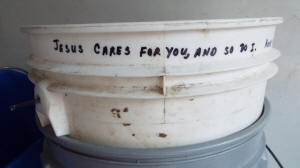 By Monday afternoon, the volunteer crew was inundated with donations. They laughed about how many trips it would have taken to get all the supplies to Chatham if they had used Andy's truck. Lisa said, "This is what America is all about: Loving your neighbor, helping your neighbor. I am overwhelmed."

Midwest Mission Distribution Center will continue to send supplies to the Houston area until they are no longer needed. If you missed giving on Monday you can contact MMDC at 217-483-7911 or email: office@midwestmissiondc.org.

[Lisa Ramlow]