Eaton Corp employees aid Habitat house build in Emden

Send a link to a friend Share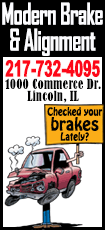 [September 09, 2017] The house build taking place at 426 Main St. in Emden is the 23rd home of the Habitat For Humanity of Logan County (HFHLC), and the first to take place in Emden. It is the future home for the Lucas and Alecia Sutton and their four children who were burned out of their home over the Christmas holiday.

Several Eaton employees gave the project a boost toward finishing when they committed to help starting during the Lincoln Balloon Festival weekend.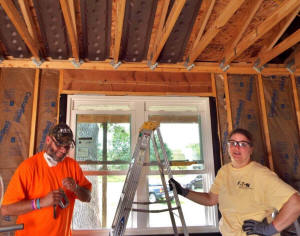 John Teagarden and Veronica Ohler of Eaton began working on site on Saturday Aug. 26th.. The two helped install insulation and vents on their first day out. In their work at Eaton Corp., Teagarden works in the Load Room and Ohler is a Metering Accountant.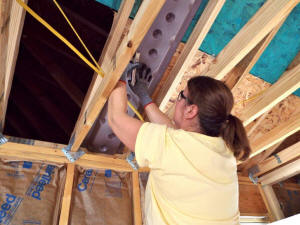 In the morning Ohler and Teagarden aided with insulation. In the afternoon it was climbing ladders to staple aeration vents to the roof.

Ohler and Teagarden were so enthused to be a part of working on the project and giving to the community that they pledged to come back the next weekend to continue the work and the company committed to three weekends assistance.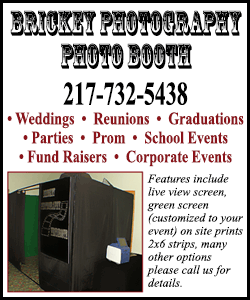 Since the June 25th ground breaking, the project has progressed rapidly with the foundation/crawlspace, subfloor, wood framing, siding, insulation, decks and porches, roof, electrical boxes and wiring, whole house electrical box, plumbing, built in lighting, some wood staining and door frames completed.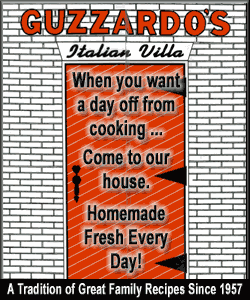 Eaton Corp produces electrical components for home and building construction.

Last weekend the wallboard was completed and this weekend entering the finishing phases, project managers Larry Zumwalt and Mark Coers hope to have lots of volunteer help to do a lot of mudding.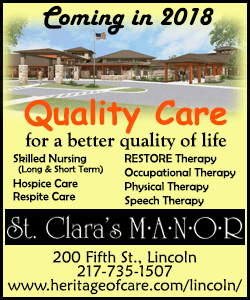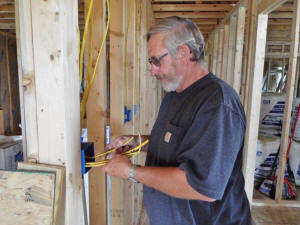 Zumwalt reviews electrical wiring to a light switch installed by a crew earlier in the day on Saturday, Aug 26th.

The future home sits on the southeast corner of town, the east side of the railroad tracks.

HFHLC spokesperson Tonita Reifsteck said, "If things go as well as it has been, we will have a home for a family between Thanksgiving and Christmas this year."

Anyone wishing to assist with this project can get more information about the construction schedule by contacting Habitat for Humanity of Logan County, phone 217-732-6412 or visit the website hfh@habitatlogan.org.

[Jan Youngquist]
Past related article

Habitat breaks ground on new build in Emden for family of holiday fire loss