New Holland Tractor Show celebrates history of agriculture and community

Send a link to a friend Share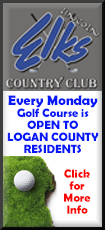 [September 11, 2017]
NEW HOLLAND - On Saturday, New Holland held its 12th Annual Tractor Show. This show was started by Ken Harnacke in 2006 to preserve American history through agricultural equipment and at the same time celebrate the area's history.

Harnacke said, "Agriculture has always been the backbone of America. The tractor came along and made a big difference in farming. Some of the tractors you see here today are over 75 years old and can still do what they were built for. When I see an old tractor, I see a part of American history.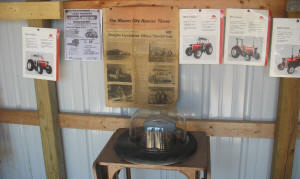 To help celebrate the town's history, part of this year's show was a tribute to Douglas Equipment, a Massey Ferguson Dealership just west of town from 1978 to the mid 1980s that carried all types of farm equipment and serviced all makes of equipment. Harnacke's shop had a display commemorating their work.

Also on display were several antique tractors with some that were over 75 years old. In addition, there were other farm implements such as an antique plow, a seed grader, a corn sheller, and gas powered stationary engines.

Throughout the day, there were demonstrations of some of the equipment.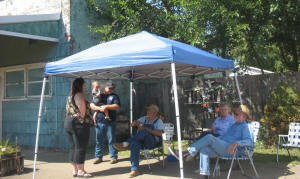 John Wibben had several of the stationary engines, sometimes called hit-or-miss engines, set up to show what they could do.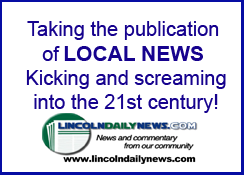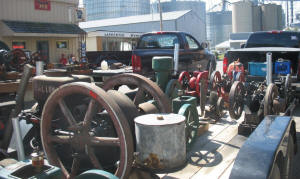 Wibben said these engines used to do what electric motors do now. They were used for such activities as pumping water, grinding feed, and running washing machines when wooden tubs and agitators were used.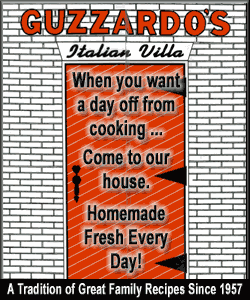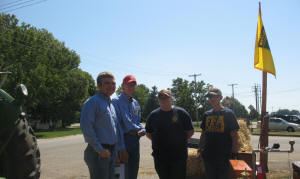 Others like seeing what the tractors can do. Luke Kirgan, who works for Harnacke, said he gets to drive the Cub Cadets and likes the ones that get used the most, which he called the workhorses.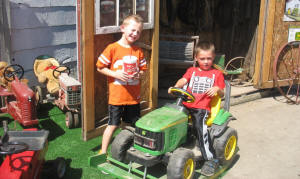 Young Ryan and his friend Ryne enjoyed playing on the toy tractors and pretending they had been working in the field.

Additional activities included a pedal tractor pull and parade.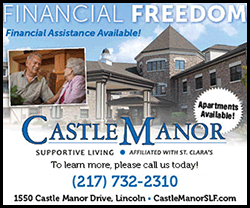 Seven kids participated in the pedal tractor pull, doing three rounds with more weights added each time to the sled pulled. Most completed a full pull in the first round.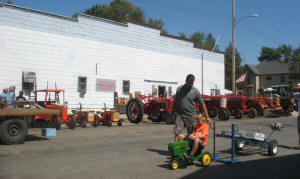 In the final round, with the sled loaded with 58 pounds of weight, Eli Crane completed a full pull.

The afternoon parade included tractor brands such as Oliver, John Deere, Allis Chalmers, Case International and Farmall, in addition to a few mowers, a New Holland Fire truck, and a horseless carriage.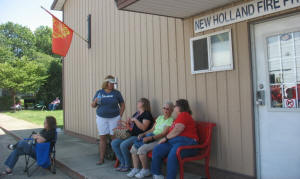 Those attending the show enjoyed seeing all the tractors and farm equipment and remembering the town's history. Joann Coers, who has lived in the area for many years, said the tractor show is good for the town. It gets many people involved and lets others see what country life is all about.

[Angela Reiners]