Project # 2 or phase 2 of the courthouse renovation is set to begin in the fall of 2017. The architectural and engineering plans to repair and renovate the east exterior wall will be finalized soon and the construction is scheduled to be completed during the spring and/or early summer of 2018. This is the second phase in a series of projects intended to renovate and stabilize the physical structure of this historic courthouse. The first phase, completed in 2016, repaired broken roof support beams in the attic and also replaced the entire roof.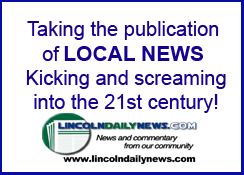 Abe's Million is a campaign, started in January of 2015, to raise funds to restore the Mount Pulaski Courthouse State Historic Site. The Courthouse Foundation has been working closely with the IDNR and the Capital Development Board to move phase 2 along. The Abe's Million campaign goals for the end of this year and 2018 are to raise $75,000. Mount Pulaski Courthouse Foundation President, Tom Martin, states, "Please watch for future updates as we begin the design phase and look to raise the necessary funds to complete this worthwhile project of our beloved historic courthouse. The Mt. Pulaski Courthouse Foundation has overwhelmingly been supported by our community and other historical enthusiasts, since our inception in 2011, and for that we say thank you!"

Here are some of the Courthouse Foundation's upcoming events…

October 28, 2017- Trunk or Treat
4:00 p.m. to 7:00 p.m.
On Washington Street, in front of the Courthouse
Zion Lutheran Church will be providing food, hot dogs and chips (free of charge)
Cake walk
Games for kids will be set up in the Christian Church parking lot.
Hot chocolate, apple cider, and water will be available.
Costume contest in front of the Courthouse
Come into the Courthouse for more trick or treating.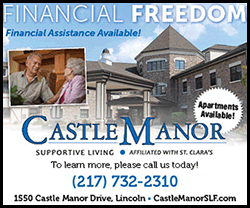 November 4, 2017- Guy Fraker at the Courthouse

December 1, 2017-
Lighting of Community Christmas Tree (Community Pride) 6:00 p.m.
The Courthouse Foundations Holly Jolly Christmas Tree Auction 6:30 p.m.

Mike Maske Auction Services
Please join the Mount Pulaski Courthouse Foundation for a live auction of beautifully decorated trees, a snowy tree raffle, and holiday refreshments!
This event will immediately follow the community tree lighting ceremony by the gazebo.
The winner of the Fan Favorite tree will be announced! Help us spread holiday cheer and raise money to reach our $75,000 goal to repair the east wall of the courthouse.
Trees will be available for viewing at the courthouse starting Saturday, November 18 during Christmas on Vinegar Hill.

December 8, 2017- Community Christmas Parade and Santa at the Courthouse

Please join Community Pride for their second annual Christmas Parade! Santa will be making his arrival at the very end of the parade and will go directly to the Courthouse for pictures and refreshments.

April 14, 2018- Spring Gala (more info to come)

As always, thank you for your continued support!
[Renee Martin, Mount Pulaski Courthouse Foundation]