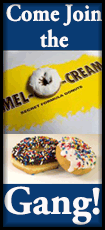 The program, "Understanding 'Chemo Brain'," begins at 5 p.m.

The 90-minute program will feature keynote speaker Tracy Vannorsdall with The Johns Hopkins University School of Medicine. She will discuss how chemotherapy affects the brain and provide tips and strategies to cope with the cognitive side effects of cancer treatment.
The program will be held in the M.G. Nelson Family Auditorium on the MCLI's first floor. Free parking is available on the first and third levels of the Memorial Center for Learning and Innovation's parking garage at Rutledge and Carpenter streets.

To register, visit MemorialMedical. com/Events or call 217-788-3333.
[Michael Leathers
MHS Public Relations]