Visitation: 2-4 p.m. Sunday, September 10, 2017, at Immanuel Lutheran Church, Lincoln
Celebration of Life Service: 4 p.m. Sunday, September 10, at the church
Funeral home: Holland Barry & Bennett Funeral Home
Obituary
Robert John Brandt, 74, of Lincoln, passed away August 28, 2017, at home surrounded by his loving family.

Visitation will be held from 2-4 p.m. Sunday, September 10, 2017, at Immanuel Lutheran Church, Lincoln. A celebration of life will follow at 4 PM. Cremation rites will then be accorded by Holland Barry & Bennett Funeral Home. There will be no burial.

Robert was born July 27, 1943, in Prophetstown, the son of Orville Paul Brandt and Gertrude Della (Sibley) Mattingly. He married Phyllis Von Holten on February 23, 1964, in Rock Falls. She preceded him in death on May 20, 2015.

Robert retired as a Colonel with the Illinois State Police. He began his career in 1965 as a trooper and in a short period of time moved up the ranks from Trooper, to Public Safety Officer, to Area Commander, to Colonel.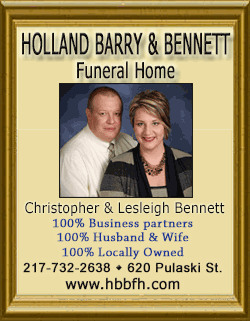 He farmed and raised cattle until his retirement from farming in 2010. He was the co-owner of Brandt's Arcade Café from April 1997 to August 2008. Robert was a former Mason, he collected John Deere tractors with his son Jeff, picked up golf later in life, enjoyed a good book, and cherished his time at the cabin and camping with friends and family.

Surviving are his children: Sheila (Jay) Sheley of Lincoln and Jeffrey (Sharon) Brandt of Lincoln; grandchildren: Raeann Sheley (Andrew Myers), Jason Sheley (Chloe Cox), Nathaniel Brandt (Haley Fry), Jenna Brandt, and Peyton Gleason; brother James Orville (Georgianna) Brandt of Phoenix, AZ.; and special friend and companion Judy Mills of Lincoln.

He was preceded in death by his parents, wife, and brother William Paul Brandt.

Memorial donations may be made to the Illinois State Police Heritage Foundation, specifically marked for the Honor Guard.

Click here to send a note of condolence to the family of Robert John Brandt