Visitation: 5:00-7:00 p.m. on Monday, September 18, 2017 at Fricke-Calvert-Schrader Funeral Home in Lincoln
Service: 10:00 a.m. on Tuesday at the funeral home
Funeral home: Fricke-Calvert-Schrader, Lincoln
Obituary
Charles F. Hamilton, 88, of Lincoln passed away on Thursday, September 14, 2017 at The Christian Village in Lincoln.

Charles was born on July 11, 1929 in East St. Louis. Early in the depression, his family moved to McLeansboro where he grew up. The son of Warner Floyd and Ida Gertrude "Gertie" (Renfrow) Hamilton. Charles was the youngest of seven children. He married Helen Langston on September 10, 1949 in La Plata, MD. After 33 years of marriage, Helen passed away on March 1, 1983. Charles found love again and married Marjorie Lee Thompson Wilkinson on December 27, 1986 in Lincoln. She survives.

Charles is also survived by his daughters; Angela (Bob) Hentrich, Chillicothe, and Christina (Russell) Ashbaugh, Atlanta, step daughters, Karen (Joe) Udwari, Punta Gorda, Florida, Amy (Stuart) Wilson, Portage, Michigan, Celia Aguilar, Daly City, California; and his sister, Anna Lee Cox, Cumming, GA. Additionally, Charles is survived by four grandchildren, seven step-grandchildren, five great-grandchildren, another to be born in November, eight step-great-grandchildren, and one on the way.

Charles was preceded in death by his parents; his first wife, Helen; three sisters, and two brothers, two step daughters, Rebecca Wilkinson and Peggy Swanberg.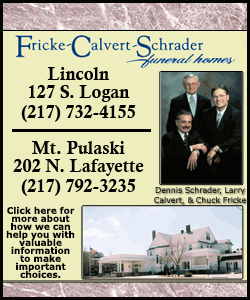 Charles had a strong faith and loved the church and the Bible. He loved his family and his family loved him! He left a great legacy of faith and character for his family. He was a member of Lincoln Christian Church for sixty-five years serving in many areas over the years including but not limited to; Elder, Deacon, Sunday school teacher, and Sunday school superintendent. He and his wife Marge served with the bus ministry at the church.
Charles was a printer by trade he learned in his father's print shop. He worked at the Lincoln Courier, Lincoln Printers, Inc. Published the Lincoln Shopper and Lincoln Graphic. Served on the board of Inner City Mission in Springfield, served with The Prison Ministry at Logan Correctional Center, Head Start- Bus Driver and Grandparent Program, He also worked with the Gideons to provide Bibles in prisons.

Services for Charles will be held at 10:00 a.m. on Tuesday, September 19, 2017 at Fricke-Calvert-Schrader Funeral Home in Lincoln, with Ron Otto officiating. Visitation will take place from 5:00-7:00 p.m. on Monday, September 18, 2017 also at the funeral home. Burial will take place in New Union Cemetery after the services.

Memorial donations may be made in Charles' name to Lincoln Christian Church or donor's choice.
Click here to send a note of condolence to the family of Charles F. Hamilton