Visitation: None
Service: 10:30 a.m. Saturday, September 9, 2017 at Trinity Episcopal Church in Lincoln
Funeral home: Fricke-Calvert-Schrader, Lincoln
Obituary
Charles William Nauts , 86, of Lincoln passed away peacefully after a long illness on September 2, 2017.

He is survived by his wife of 40 years, Norma "Norjie" Walker Nauts, whom he married on September 10, 1977 in Lake Forest. He is also survived by his three children: Jennifer (James) French of Richmond, CA, Margery "Peggy" Nauts of Oakland, CA, and Matthew Nauts of Los Angelas, CA, as well as his brother Chandler (Bonnie) Nauts of Ann Arbor, MI, his sister-in-law Marsha Nauts of OH, and many fond nieces, nephews, and other family members. He was preceded in death by his parents and one brother, Barrington Nauts.

Charles was born on December 11, 1930, in New York City, NY, the eldest of three sons of Merritt C. and Helen Kershner Nauts. He grew up in Toledo, OH, where his family moved. At age 16 he was selected to attend the Hutchins plan for gifted students at University of Chicago. Upon receiving his degree (PH. B.) there, he attended and graduated (A.B.) from Columbia College, New York, where he was a member of Sigma Nu and the swim team. He then returned to the University of Chicago for his law degree.
His long career in law led to vice presidencies at Chicago Title and Trust Company and Ticor Title Insurance Company, first in Chicago and then Los Angeles. He retired in 1994 from the Chicago law firm of Chapman and Cutler, where he concentrated on commercial and residential real estate law.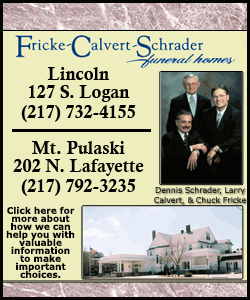 Among his many professional activities, he was very active in the American, Illinois, and Chicago Bar Associations where he chaired numerous committees and published various legal articles, co-authoring two books on complex real estate topics. He was also proud to be a member of the American and Illinois Land Title Associations and the American College of Real Estate Lawyers.

Charles also was a trustee emeritus of Lincoln College. He belonged to the Trinity Episcopal Church in Lincoln, and was a member of the Union League Club of Chicago, the Cliffdwellers Club of Chicago, Lincoln Elks Lodge #914, and the Kiwanis.

Those who knew Charlie will always appreciate his love for music, including his prodigious memory for verse, as well as his talents at golf, bridge and poker, his enjoyment of reading, and his openness to life-long learning. He will be sadly missed by his many friends and relatives.

Services for Charlie will be 10:30 a.m. September 9, 2017 at Trinity Episcopal Church in Lincoln, with Rev. Mark Evans officiating. There will be no visitation. Burial at New Union Cemetery will follow the service.

Memorials may be made in his memory to Lincoln College or Abraham Lincoln Memorial Hospital.

Services are entrusted to Fricke-Calvert-Schrader Funeral Home in Lincoln.
Click here to send a note of condolence to the family of Charles William Nauts