Ribbon Cutting services return to Logan County
To schedule a ribbon cut email ribboncut@lincolndaily news.com

Send a link to a friend Share
[April 19, 2018] When someone invests the time, energy, and money into opening a new business or renovating and expanding an existing business, it is something they have worked hard for and are proud of when they finish. It is a time when they want the community to know what they have accomplished and to come to join them in celebrating that accomplishment.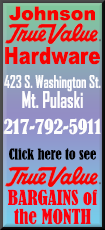 For many years a traditional Chamber of Commerce Ribbon Cut was one way that we as a community could come together and support that new or expanding business and join in their celebration. With the dissolution of the Lincoln/Logan County Chamber of Commerce in late 2017, Logan County has seen a decline in ribbon cuts because there was no one who was available to facilitate such an event.

After careful consideration, and a lot of discussion between the owners, advertising, and content staff at Lincoln Daily News, the paper has decided that it is in the best interest of the community if someone steps up and takes the reins on ribbon cuts. Often times we sit and say "someone should do this." But when it comes to being the one who says "I will do this," we tend to step back. LDN staff and its owners have decided that we can be that "I will do this" entity.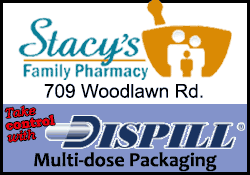 "It is a great thing to celebrate our community and what is good about it. That is something LDN has strived to do since the first daily edition published more than 18 years ago. Because of that it seems natural to us that we should volunteer to make sure the ribbon cut celebrations continue throughout our county," said owners Jim and Jan Youngquist.

"We spend a lot of time out in the community, and we know when things are happening that will have an impact on Logan County citizens. We have ample opportunities to speak with local business owners and say to them 'Hey, let's celebrate you, and let everyone know you are doing good things!'" said Director of Advertising Karen Hargis.

"We talked a lot about this," said Content Manager Nila Smith. "We wanted to do something that was not about getting the exclusive or selling an ad. We wanted to develop a plan that would incorporate all media and all our community leaders, and allow everyone the opportunity to show support for local business. Lincoln Daily News has done several things in the past to promote shopping local and supporting local people. This seems like a natural extension of that effort."

Anyone who is interested in having a ribbon cut can contact LDN directly and easily by emailing ribboncut@lincolndaily news.com or calling Karen Hargis (217-737-7418), Roy Logan (217-737-7104), or Nila Smith (217-737-3613).

LDN will provide the ribbon and scissors for the ceremony and will facilitate getting owners and community leaders to say a few words before the actual cut. LDN will also set up photo ops before and during the cut that all media will be invited to take advantage of.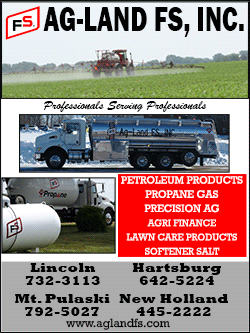 When ribbon cuts are scheduled, LDN will send out email invitations to community leaders, other business owners, and to all media outlets. The business owners will be responsible for inviting friends and family, business investors and others whom they wish to have join the celebration.

Ribbon cut events will also be listed on our Community Calendar pages, and it will be standard practice that all members of the community are invited to come out whether they receive a personal invitation or not.

Roy Logan of the LDN advertising department said, "As Chamber Ambassadors, Karen, Nila, and I all participated in Chamber ribbon cuts. We were excited about being a part then, and we're excited about being able to offer this now. This is truly a community service, giving something for nothing, expecting nothing in return, we're just doing it because it is the right thing to do."

Ribbon cuts will be offered to new businesses, businesses with substantial renovations or expansions, and relocations. LDN will also offer ribbon cuts to local events, such as the Logan County Fair, Railsplitter, and Pigs & Swigs Festival; other milestone events such as opening of new tourist attractions, new or substantially renovated government facilities; and we'll help local businesses and organizations celebrate their significant milestones such as a big anniversary date.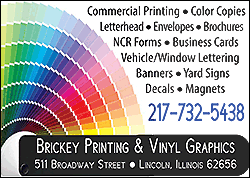 The aforementioned are set as examples. There may be other reasons for ribbon cuts, and LDN will take into careful consideration any request that is received.

We want to encourage everyone to join in re-growing this important activity in Logan County. If you are a business owner or community leader and wish to be certain you receive the email invitations, please email us at ribboncut @lincolndailynews.com and request to be added to our group email for your community.

LDN will welcome the opportunity to provide this service in all our communities from Atlanta to Elkhart to Lincoln to Mount Pulaski and points in between.

[Nila Smith]