Railers Need All Four Quarters To Win
Send a link to a friend Share
[August 25, 2018] By Benjamin Yount; photos by Sheri Sparrow

LINCOLN – For three quarters the Lincoln Railsplitters made it look easy against Macomb.

The Railers ran the ball, almost at will at times, Friday night. And after a slow start, junior quarterback Dreyden Pozsgai started to connect with his receivers.

"We scored 20 points, so obviously we'll take it," Railer head coach Matt Silkowski said after the game. "But we got away with a lot of stuff."

That stuff included turnovers, a lot of penalties, and a fourth quarter where the Railers almost let the game slip through their fingers.

Lincoln started Friday's home opener by ripping three straight runs through the Macomb defense. After a few fizzled offensive drives, and a Justin Nguyen interception that didn't result in any points, the Railsplitters were looking to start the second quarter by receiving a Macomb punt.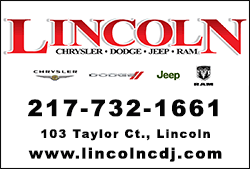 Noah Funk had other ideas. He blocked the punt, and recovered the ball at the 10 yard line.

"Our defense was pretty much locked down," Funk said.

Four plays later Pozsgai punched-in a quarterback keeper for the score.

Lincoln lead 7-0.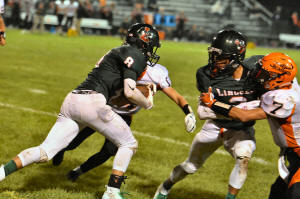 Junior Jayden Pollice gets the ball as the Railers surged again the Macomb Bombers on Friday night.
Another interception, this time by Jayden Pollice, put the Railers back in striking distance.

This time Pozsgai tossed a broken-play pass to Funk for a 33-yard touchdown.

"The safety came in, and I was able to stop in the gap," Funk explained. "I was able to make a man miss and I got into the end zone."

Lincoln lead 14-0 with 3:35 left in the first half.

The second half started pretty much the same, with another interception by Funk.

Lincoln and Macomb traded turnovers, then Lincoln's defense stiffened and kept the Bombers from scoring on four attempts from the 15-yard line.

[to top of second column]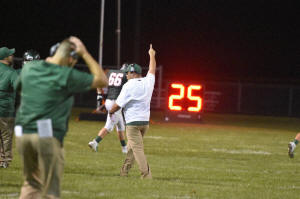 Lincoln coach Matt Silkowski raises his hand after the Railer punch the ball in for a touchdown.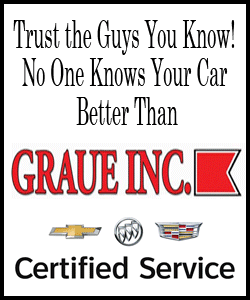 After a Lincoln punt, it was Macomb's turn to move the ball until Funk forced a fumble with 46 seconds left in the third quarter.
One play later, Pozsgai connected with Pollice for a 28-yard score to take a 20-0 lead.
It looked like Lincoln was cruising to an easy victory.

Then Macomb connected on a hail Mary on the last play of the third quarter.

The first play of the fourth quarter was a touchdown strike to wide receiver Evis Campbell.

One on-side kick later Macomb had the ball back. A few plays after that they scored again, this time a five-yard toss to back Kyle Protsman.

Lincoln lead, but only 20-13.

Nguyen picked off another pass to stop Macomb short.

The Railsplitters managed one more drive, all the way down to the three yard line with a little over five minutes left to play. And then Pozsgai fumbled the snap.

"We just didn't get it done," Silkowski said. "That would have been a walk-in touchdown. Our offensive line was blocking well, and Tyler Vance could have punched it in."

Macomb failed to do much with their good fortune, and after a punt with 2:08 left in the game Lincoln ran out the clock for the victory.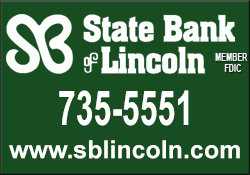 "Coach Silky told us that we don't want this to be the highlight of our season," Funk said after the game. "So we need to come out next week and play better football."

Next week Lincoln will face Mt. Zion High School, which won its season opener Friday with a 12-6 victory over Limestone.

Lincoln is 1-0 on the season.

The next game is Friday night at Mt. Zion, kick-off is set for 7 p.m.
[by Ben Yount; pictures by Sheri Sparrow]