Lincoln Gets First Apollo Conference Test With Mt. Zion
Send a link to a friend Share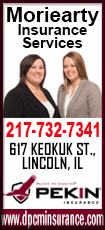 [August 31, 2018] By Benjamin Yount

LINCOLN – There is a benefit to getting punched in the mouth. – Metaphorically.

And the Lincoln Railsplitters are looking at a team that could deliver a jab to the teeth Friday night.

"Mt. Zion is a really good football team, they're really well coached. They do a lot of things very well," Railer coach Matt Silkowski said Thursday. "They have some very physical players, they will come after you."

But Silkowski is not afraid of the metaphorical punch. In fact he wants to see if his squad is up to their first Apollo Conference test.

"We're glad we won (week one against Macomb) but we feel a little disappointed in some of the things that we did or didn't do," Silkowski explained.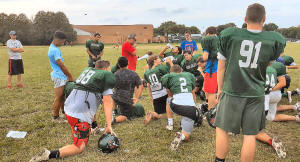 Lincoln Head Coach Matt Silkowski goes over the last minute details ahead of
Friday's
first road game of the season.
Lincoln beat Macomb 20-13 last week. But it wasn't an easy victory.

Junior wide receiver Jayden Pollice said the team felt the stress of almost letting the victory slip away all week in practice.

"It was a good game," Pollice said after the team's final walk through Thursday. "But I'm not going to lie, it's been slow this week."

Silkowski said his team is going to have to step-up and play better, if they expect to get a win.

"It was one guy, one block away last week," Silkowski said. "There were a handful of plays throughout the night that if one guy does a little bit more then we're going to break it and score. If we had one read the other way."

[to top of second column]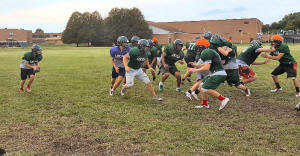 The Lincoln offense gets in one last run before their Week 2 match-up against Mt. Zion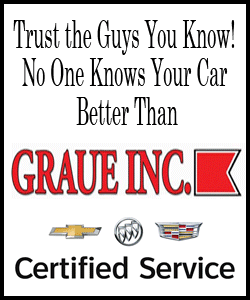 Pollice, who had a touchdown and two interceptions against Macomb, said the plan for Mt. Zion is to do what Lincoln does best.

"Coach told us not to say much about the game plan, so we'll see Friday night," Pollice added.
Coach Silkowski offered a bit more.

"We're a run first team. We're a run first program. That's who we are. That's who we've been. That's who we'll continue to be," Silkowski said. "We will use the run game to open-up the pass game."
Mt. Zion also won its first game of the season, beating Limestone 12-6.

Head Coach Patrick Etherton said don't let the score fool you, the game was more than a six point difference.

"Limestone is a much improved team," coach Etherton said Thursday.

Mt. Zion won just five games last year, but won nine the year before.

"Our expectations are to make the playoffs every year and hopefully last year was just a learning year for our team," the coach added.

Etherton didn't tip his hand as to the Braves' game plan.

Mt. Zion will host Lincoln Community High School travels to Friday. Kickoff is 7 p.m.
[by Benjamin Yount]