Railers crush Charleston to improve to 9-0 on the season
Send a link to a friend Share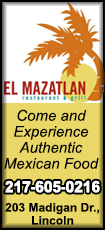 [December 22, 2018] The Lincoln Railers visited Charleston Friday night and crushed the Trojans 62-27 in an Apollo Conference Varsity game.

The Railers were up 24-2 after the first quarter. As the halftime buzzer sounded Lincoln was in control of this one, 42-10 the score. The lead was a comfortable 56-17 heading into the final quarter. The 62-27 victory keeps the Railers alone in first place in the Apollo Conference with a 6-0 record.

Kaden Froebe led Lincoln with 20 points. Jermaine Hamlin had 14 points for the Railers.

The Railers JV team also picked up a 53-46 win over Charleston.

Landon Hullinger continues to play outstanding and he poured in 26 points over the Trojans. Keagan Ferguson scored 11 points for Lincoln. The JV team is also 9-0 overall this season and 6-0 in the Apollo Conference.
Varsity scoring

Lincoln 62
Charleston 27

Froebe 20
Hamlin 14
K. Whiteman 7
Singleton 5
Ewald 5
Funk 3
Hullinger 2
Collier 2
B. Whiteman 2
Ferguson 2

Spour 9
Landrus 9
Finley 4
Bell 3
Harrell 2
JV scoring

Lincoln 53
Charleston 46

Hullinger 26
Ferguson 11
Grunder 6
McCraith 4
B. Whiteman 4
Koehler 2

Bell 16
Pankey 11
Harrell 7
Weemer 3
Braun 3
Bickford 2
Schuette 2
Herrington 2
[Teena Lowery]