Railers end regular season with comeback victory
Send a link to a friend Share
[February 24, 2018] It wasn't pretty. It wasn't stylish. It wasn't a pair of offensive juggernauts battling it out. In the end, what it was, was a good basketball game that came down to a defensive play in the final seconds to preserve the win.

Just like Senior Night is supposed to go.

After training by eight in the first quarter, the Lincoln Railers battled their way back in the second half thanks to suffocating defense along with Isaiah Bowers scoring 15 of his game high 20 points to lead the Railers to a 37-34 win over Normal West and highly touted junior Francis Okoro. It was certainly a team victory as everyone played a key role in one way or another, a trend that is just fine with the Railers.

"We have a lot of different pieces that fit just the way they do," Lincoln coach Neil Alexander said after career win number 804. "Everyone does what they are supposed to and it fits. They may not score or block a shot but when everyone does their job, we can stay in out game. We didn't get a lot of good looks, well, wait, we did get good looks, we just didn't get them to fall. That is a tough defense to play against, a good team, and I think they are going to make some noise (in the tournament)."

In the end, it was Lincoln that made a big shot and then came up big on defense to preserve the win. After Jermaine Hamlin put Lincoln up 32-29 with a three-point play with 1:13 remaining and a pair of free throws from West's Nate Duckworth cut the lead back to one, Ben Grunder got an open look in the right corner, never hesitated and drilled a three-point to push the lead to 35-31. It was a shot that elicited reactions from the bench of "oh no" to "great shot." It was Grunder's only score of the night but it could not have come at a more opportune time.

Normal's Shea Cupples connected for his third three of the quarter, a quarter in which the Railers held Okoro scoreless, the pull the Wildcats (21-7) back within one. After Titus Cannon missed the front end of a one and one with 30 seconds left, it seemed the visitors were poised to hold for the last shot. After running the clock down, the ball trickled free and seemed as though the Railers were going to escape with the possession. However, the Wildcats were able to reach in and force a held ball, retaining possession. After a miss, Tate Sloan was fouled and went to the line for a chance to extend the lead. Sloan missed, sending the Railers quickly back on defense with seven seconds left.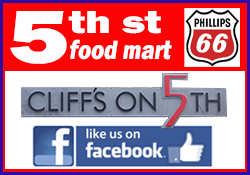 Instead of thinking about the miss, Sloan recovered to gain the defensive advantage and when Duckworth extended his lead arm, forcing Sloan back, the sideline official whistled an offensive foul on Duckworth giving the ball back to Lincoln with three seconds left. The real trick was now inbounding the ball. Normal's plan was to make it as difficult as possible by using Okoro to guard the inbounder (remember this for later). First, the Railers tried Grunder to trigger the play. Not only did Okoro make it difficult but the ball was being inbounded between the Normal West bench and the edge of the scorer's table. Public address announcer Cameron Kurtz was as close to the play as anyone.

With Grunder unable to find anyone and a Lincoln timeout, Alexander switched to Sloan for the inbounds. Once again, the Railers were forced to take a timeout. Third time was the charm as Sloan found Bowers in the front court where he was fouled with 2.2 seconds to go. Up to that point, it had been a rough night for Lincoln (24-5) at the free throw line hitting on just 1 of 5. But these were the ones that mattered. Bowers calmly sank the first one and then banked in the second, a play that made you wonder if it was planned to maybe miss it. When asked, Alexander said he didn't tell him to miss it.

So, the game had come to this. After Bowers put Lincoln up 37-34, Alexander called a timeout to set up his defense. It was a difficult call as Normal West was out of timeouts but it would allow them to set up a play. Lincoln was now going to return the favor. Remember how difficult it can be to inbounds around a 6'9" defender? Well, the Wildcats got a taste of their own medicine, only this time it worked. As Normal West slid along the baseline, trying to make the inbounds pass, Hamlin extended his massive wingspan enough to tip the pass, causing it to flutter in the backcourt and picked up by the Railers to preserve the win. What a surprise. Lincoln wins with defense.

"The way our offense was, if we don't play defense like we know we can, we get blown out of the gym," Alexander said. "They say defense wins championships and what I like most about our team is that we have been solid. We may have nights, like tonight, where the shots don't fall but our defense is always there."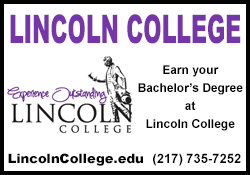 Things didn't look rosy early on as Normal West built an early 12-4 lead. Okoro, one of the top recruits in the country started the scoring with a dunk. Among others on hand to watch the contest was University of Illinois head coach Brad Underwood. Dealing with Okoro's size inside would fall to the duo of Hamlin and Drew Bacon. However, Bacon had to sit early after picking up his second foul with 5:25 left in the first quarter. After Bowers got Lincoln on the board and another score from Normal West, Hamlin took a lob pass from Bowers and scored on the lay-in. A 6-0 run from the Wildcats stretched the lead to eight at 12-4. During the run, Lincoln simply could not handle the basketball. One turnover or missed shot after another kept Normal West in control. Lincoln was able to draw closer on a three from Cannon as the lead was cut to 12-7 at the end of one. Throughout this 11-game winning streak, Cannon has come up with some big shots for the Railers.

[to top of second column]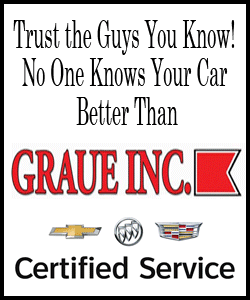 A three from Bowers pulled Lincoln within two at 12-10 in the early stages of the second. A score from Duckworth pushed the deficit back to four. Let's just say offense was hard to come by in the second as the teams combined for just those five points.
The Railers looked much more in synch in the second half with better ball movement and shooting. A 12-footer from the baseline by Bowers pulled Lincoln within two. "Our shots were just not falling early. That defense of theirs is tough," Alexander said. "What they do is make you shoot quick so you've got to be ready." A three-point play from Okoro moved the lead to 17-12. Again, the aggressive play of the Railers got them back to even after Cannon hit another big three, Bowers tied the game on a steal and driving layup.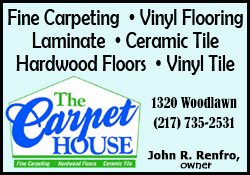 Even at 17, West went back up by four at 21-17. Sophomore Isaac Dewberry made his presence felt with a three from the top of the key. Free throws from Okoro sent the game to the fourth with the Wildcats holding a three point lead at 23-20.

In his last game at Roy S. Anderson Gymnasium, Bowers took over in the fourth scoring 11 of Lincoln's 17 points. His three tied the game at 23 while his 15-footer with 5:52 left gave the Railers their first lead of the evening at 25-23. Cupples quickly answered with a three to swing the advantage back to Normal West at 26-25. Bowers hit more shots before Cupples tied the game with another three at 29.

Bowers led the way with 20 points while Cannon added six. Hamllin scored five with Grunder and Dewberry each adding three.

So, now everybody is back to even. With the regular season over, attention turns to the state tournament with regional play beginning next week. The Railers will play Wednesday night at 7:00pm against either SHG or Jacksonville. Their matchup is Monday night. If the Railers win they will advance to the regional final set for Friday night. But, one game at a time. There have been games this season that gave you pause and concern about Lincoln's chances in the postseason. During this 11-game winning streak, I not sure any team in the state, no matter their enrollment classification, that is playing better defense than Lincoln and, as mentioned by Coach Al previously "defense wins championships." Wins is certainly something Alexander knows about as, before the game, he was presented with a plaque commemorating his 800th career earlier this month at Effingham.

I also want to take a moment to say thank you as well. For those that may not know, this is my 17th and final season doing the Railer broadcasts for WLCN. With our daughter, who was also celebrating her Senior Night as well, heading off to college, I want to make sure I am as available as possible to meld with her schedule. There may be some nights I would not be able to do the broadcasts and I want Railer Nation to have that consistent voice. My thank you goes out to the Railer Nation community for the plaque I was presented with before the game. It was certainly appreciated and I want to say thank you to all who have been a part of the journey. Once the season ends, I will have some more thoughts and thanks. But for now, let's hope my final broadcast can wait.

Hopefully, all of Railer Nation can make it to Rochester midweek. The road to Peoria starts there and the countdown is seven. Let's hope there are seven more victories to talk about. Of course, let's just worry about them one at a time.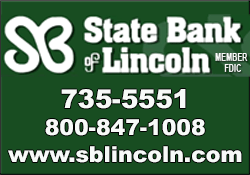 LINCOLN (37)

Bowers 8 2-2 20, Cannon 2 0-1 6, Hamllin 2 1-3 5, Grunder 1 0-0 3, Dewberry 1 0-0 3, Sloan 0 0-1 0, Bacon 0 0-0 0, Whiteman 0 0-0 0. TEAM 14 3-7 37. 3pt FG 6 (Cannon 2, Bowers 2, Grunder, Dewberry).

NORMAL WEST (34)

Okoro 11, S.Cupples 9, Duckworth 8, Wollenschlager 6. TEAM 11 9-11 34. 3pt FG 3 (Cupples 3).

LCHS 7-3-10-17 37
NORMAL WEST 12-2-9-11 34

GAME EXTRAS
- Isaiah Bowers is tied for 2nd in games played at 125 with Brandon Farmer, Jordan Nelson, and Gavin Block.
- With the win, in related categories, Lincoln is now
o 3-2 when trailing at the half
o 3-5 when they have fewer free throw attempts
o 2-2 when scoring less than 40 points
o 19-1 when holding opponents to under 40 points
o 11-2 on Fridays
o 8-0 in February
o 15-2 when making 4-6 threes in a game
o 13-3 while wearing the White uniforms
o 17-3 when there is one Railer in double figures
o 11-4 in home games
[© 2018 Thomson Reuters. All rights reserved.]
Copyright 2018 Reuters. All rights reserved. This material may not be published, broadcast, rewritten or redistributed. Thompson Reuters is solely responsible for this content.