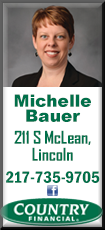 The ribbon cut began at 7:45 a.m. with representatives from ALMH and the city of Lincoln being joined by Illinois Representative Tim Butler, some of the ALMH Market volunteers, and a number of former members of the Chamber Ambassadors, including Deron and Christi Powell, Marcia Cook, Karen Hargis and Roy Logan.

Nila Smith began the ceremony with a thank you and acknowledgement of all in attendance, which included city of Lincoln Alderman Jeff Hoinacki, City Clerk Peggy Bateman and Mayor Seth Goodman. Representing the ALMH Market were ALMH Hospital Administrator Dolan Dalpoas, ALMH Foundation Director Sarah Helm, ALMH Community Health Collaborative Director Angela Stoltzenburg and the new ALMH Market Manager Chelsie Campbell.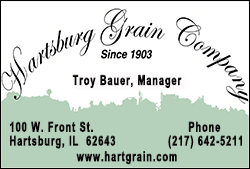 It was noted that outside the Market doors, the weather was looking gloomy with not much potential for a good day. However, shoppers were quite fortunate in that the ALMH Market is held inside. Smith noted, "When ALMH said they were going to start a Farmer's Market in Lincoln, we all hoped it would be successful, but I don't think any of us imagined just how successful it would be!"

Each year the market has evolved and changed, and grown into something that Smith said was not just a summer shopping experience, it had become a summer destination in Logan County.

A big thank you was offered to the administration at ALMH, who three years ago had the insight and foresight to think outside the box, and say, "We don't just want to take care of people when they are sick, we want to help them stay well."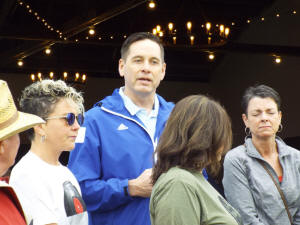 Representative Butler was asked to say a few words. He congratulated the Market on its success and noted that he is involved in committees in the state legislature that address the farmer's market program, and he is a proponent of farmers markets. He said that locally, his favorite story is that of Ethan Hoinacki and his coffee roasting business. He said he was happy that he was able to assist Hoinacki in getting his home roasting license when issues arose with the state.

Butler also spoke about bills that went through the state congress that made it easier and more beneficial for those utilizing SNAP benefits to shop at farmer's markets.

He concluded by adding his own 'thank you' to ALMH for their commitment to the farmer's market program.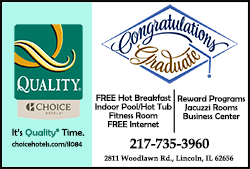 Mayor Goodman also offered congratulations and thanks to ALMH for creating and development of the market.

Hospital Administrator Dolan Dalpoas spoke last saying that he wanted to thank everyone for coming to the opening ceremony. He said he wanted to offer a big thanks to the Logan County Fairground Board and particularly Mike Maske, who had worked so well with the hospital to get the market established. He expressed appreciation for the many volunteers that work at the market each week helping to make it a good experience for the shoppers, as well as the vendors. He went on to say he really appreciated the vendors who have made the commitment to come each week. Dalpoas said that there were several new vendors. He concluded, "We did this because we wanted to advance our mission, which is to improve the health of the people in the community we serve."

With the speakers concluded Mayor Goodman joined Market Manager Chelsie Campbell in snipping the ribbon.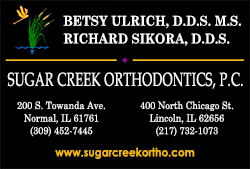 At 8 a.m. the bell rang and the market was officially open for shoppers. Inside there were familiar faces of vendors who have been coming to the market since it began. There were also a number of new vendors offering a wide variety of products. Items offered for sale spanned a wide variety including beautiful hanging baskets, bedding plants, spring vegetables, such as asparagus and lettuce, home made breads and other baked goods, fresh locally grown meats, local honey and honey by-products such as bees wax, and a new smoothie bar.

Local organizations such as the United Way of Logan County were also on hand.
There was a toddler play area and the Kids Zone was open. Children had the opportunity to stencil and paint their own reusable canvas shopping bag, and also learn lessons about the "Power of Produce." Face painting was offered by the Zoo Lady and Aaron's Party Balloons was crafting balloon objects for the kids.

Abraham Memorial Hospital offered the "Know your numbers" booth allowing shoppers to check their blood pressure, weight and BMI (Body Mass Index), as well as cholesterol and blood sugar levels checks.

Know your numbers will be offered on the second and fourth Saturday's of each month. On the first and third Saturdays, a hospital dietician will be on hand to talk with shoppers about healthy eating habits and making smart food choices.
One very nice success story from the market is that of Nicole Cox and Ethan Hoinacki. For the first two years of the market the two had separate booths there each week. Cox offered a wide variety of sweet baked goods, while Hoinacki was selling his own select roasted coffee products. A few months ago the two joined forces and opened a brick and mortar location in downtown Lincoln. The Guesthouse offers Hoinacki's coffees and other beverages along with Cox's baked goods and other food items.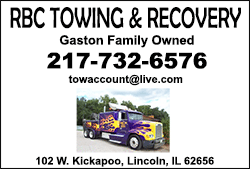 This year the pair also have the market café at the ALMH Market on Saturdays. The Guest House was at the market offering a breakfast menu and noting that they were using local products and products from the farmers market. The sign at the counter explained that in their breakfast sandwich they were using bread made at Deep Roots Café' and Bakery in Lincoln. The eggs were purchased form Ioerger Family Farm, a vendor at the market. In addition, Odehelr Farm jam was being used, as well as nut butter from Gone Nuts, both vendors at the market.

Mandy Corday was on hand promoting recycling, and there was an opportunity to drop off recyclable items at the market.

Live music was offered by Toocan Toones, and at 9:30 a.m. there was a live cooking demonstration offered by Chef Denise from Copper Pot Cooking Studio.

Outside the Central Illinois Community Blood Center had their bloodmobile set up outside the building for those who wished to make a donation.

Bounce houses were also set up outside, and several children took advantage of the popular play area.

Throughout the morning, traffic was steady at the market, with folks coming in to enjoy the offerings of ready-made foods, shopping the potted plants for Mother's Day, and taking advantage of the offerings of meats and vegetables.

The market ran from 8 a.m. to noon and on Saturday evening Angela Stoltzenburg reported that there had been roughly 2,000 visitors to the market on opening day.

The market will run every Saturday throughout the summer. The doors open each week at 8 a.m. and close at noon.

[Nila Smith]
See these slideshow from opening day
Season opener starts with a ribbon cut - slideshow
Market offers plenty of buying opportunities - slideshow