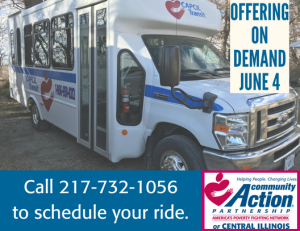 CAPCIL Transit to offer on-demand pick up system for their senior transportation program
Send a link to a friend Share
[May 30, 2018] CAPCIL Transit, operated through Community Action Partnership of Central Illinois, has been providing transportation for Logan and Mason Counties for the past 30+ years.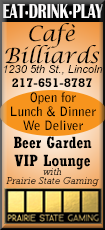 Starting on Monday June 4th, CAPCIL Transit will begin scheduling transports with a 24-hour prior notice. Ryne Komnick, Chief Operations Officer and overseer of the transportation program stated, "Our number one priority is offering the best experience for our customers. We feel that reinstating an on-demand system will better fit the needs of our riders". Currently the program only offers the Senior Flex Route with various scheduled stops throughout Lincoln.

Customers can call 217-732-1056 to schedule their ride, with priority given to those over the age of 60. Local rides can be scheduled with 24-hour notice while out of town rides will need to be scheduled at least one week in advance. Seniors (age 60+) can ride with a donation of $2.50, while all other adults pay a one-way fare of $3.
It is the mission of CAPCIL, in partnership with communities in our service area, to empower persons with low income and the aged by creating and implementing poverty-fighting initiatives for those in crisis and those that endeavor a life of lasting independence. CAPCIL Transit funding provided in whole or part by Illinois Department of Transportation, The United Way of Logan County, and Area Agency on Aging for Lincolnland.

For additional information please visit CAPCIL's website at www.capcil.info, or by calling Ryne Komnick at 217-732-2159.
[Katie (Alexander) Dalpoas
Director of Agency Development
Community Action Partnership of Central Illinois]