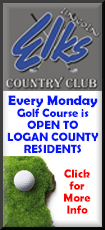 Learn about the tractors and talk to the owners about farming in days gone by.

In July, the core group of showmen and tractors gathered in New Holland for their annual tractor ride to Mason City. In that group 15 local tractors made the trek traveling rural roads between the two towns and taking in the scenic views that are unique to the Logan/Mason County line.
Amanda Grey of Amanda Grey Photography traveled with the group, grabbing some neat shots at the Mason City Nursing home where the group made a stop to visit with residents. She then chased and passed the tractors on their way back to New Holland getting some nice shots along the way.
The group arrived back in New Holland at 11 a.m. and enjoyed a lunch served at Harnacke Buildings by Carla Harnacke, Melanie Harnacke and Michelle Majerus.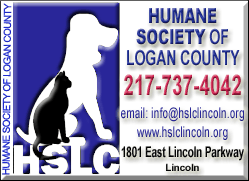 Those who participated in the drive included:

Darren Haberland of Emden
Wayne Moldenhauer of San Jose
Don Maxheimer of Mount Pulaski
Duane Ingram of Lincoln
Larry Stanfield of Lincoln
Jim Sheley of New Holland
Lee Johnson of Elkhart
David Kemp of New Berlin
Lynn Johnson of Elkhart
Murry McKenna of Mason City
Russel Leinweber of Mason City
David Grey of Atlanta
Ryne Grey of Atlanta
Derik Jacobs of Lincoln
Ken Harnacke of New Holland
Cameron Harnacke of New Holland
Many of those same tractors will be in attendance this Saturday as well as, hopefully, a number of this year's "feature" tractor, the Allis Chalmers.
Allis Chalmers tractors are the end result of a corporate buy-out in 1860 of a manufacturing company making steam engines for flour mills. The company continued to produce items used in manufacturing and mill work through the turn of the century.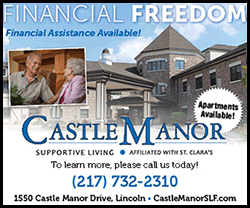 In an effort to diversify and recognizing the ever growing trend for mechanization in the agricultural industry in 1912, Allis-Chalmers began developing its first line of farm tractors. In 1914, the first Allis Chalmers tractor was marketed. Between 1914 and 1919 the company offered three models; the 10-18, 6-12 and the 15-30.

Allis Chalmers continued to be a major player in the farm equipment industry through the majority of the 1900's, surviving the great depression and thriving during World War II.

In 1960, Allis Chalmers pled guilty of participating in a cartel between itself, Westinghouse and General Electric. The three firms were accused of price fixing and bid rigging. The company withstood the blow and continued on, diversifying its line with new names, such as Simplicity.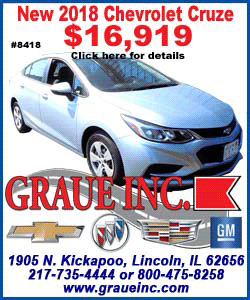 In 1974, a change in business structure and corporate name brought Fiat-Allis onto the farm equipment market, but the company was on the decline, and efforts to revive the once booming corporation would ultimately fail. The Allis lines would come to an end in 1985.

In addition to an ample number of tractors, look for many other interesting items at the New Holland Tractor Show.

Plans are underway for blacksmithing and other demonstrations of farm and country life in days gone by. There will be displays of small engines and garden tractors. For the kid in all of us, there will be a toy tractor and equipment display set up, and as an added feature there will be a toy show for youngsters.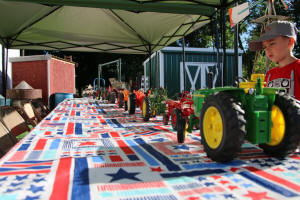 Kids are encouraged to bring their favorite toy tractor to be placed in a case for a show. Each one will receive 'something special' for submitting an entry.

New this year will be kiddie tractor pulls and other activities in the "Kid Corner."

The annual New Holland Memorial Tractor Show is a great opportunity to enjoy a small, friendly town, learn about agriculture as our parents and grandparents would have done it, and realize the differences that have come through larger equipment, greater technology, and to reflect with the old timers about the "good ole' days."

There will also be food opportunities, and plenty of time to gather with friends and family and just visit and strengthen relationships. Hope to see you there!

[Nila Smith]