Home folk and diaspora flock to Atlanta Fall Festival Saturday evening



Send a link to a friend Share
ATLANTA
The wet and dreary weather did not dampen people's spirits at the Atlanta Fall Festival. On Saturday night plenty of people, mostly local, showed up to enjoy the evening activities.

Though rainy weather cancelled some of the afternoon events like the parade and fire truck rides, the evening brought out a park full of people.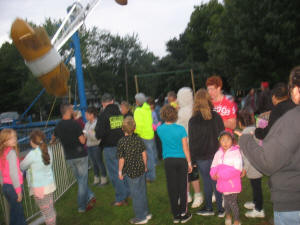 For hungry festivalgoers, the men of the Atlanta United Methodist Church served Angus tri-tips, which are made from the beef off the tip of a sirloin. The tri-tip dinner replaced the barbeque chicken dinner they had been preparing for 60 years.

As it takes so many people to prepare chicken interest had been diminishing, Bill Blankenship said it seemed like it was time for a change. Curtis Fox said there was initially a long line for the dinner. There was high interest in trying the tri-tips and initial reviewers said it was a delicious meal.

Other festival fare included walking tacos, cotton candy, caramel apples, popcorn, elephant ears and lemonade shake-ups.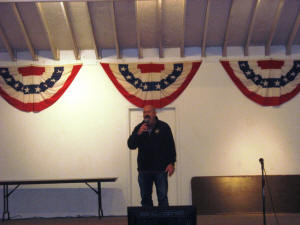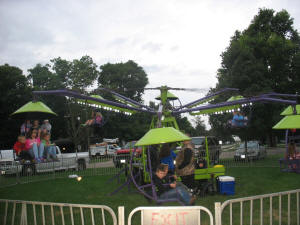 Those looking for entertainment could enjoy the Karaoke contest, nightly Bingo game, many carnival rides and games, or just visits with friends.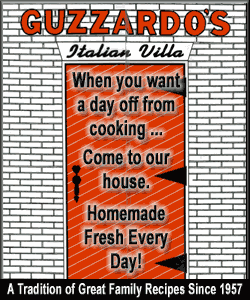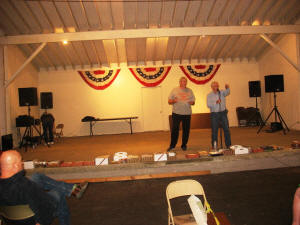 Morning activities included a baking contest. In the evening, prize winning entries and baked goods from the Atlanta Ag 4-H Club including cupcakes, pies, cakes, quick breads, and cookies were auctioned off. Proceeds from the auction go to the Fall Festival Baking Fund.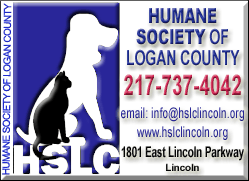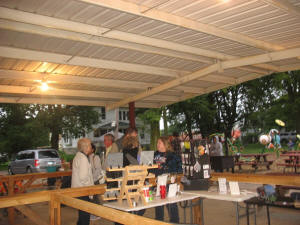 Janice Begolka, a vendor who sells hand-crafted and Route 66 merchandise, said she enjoys seeing all the people out at the festival having fun.

As always, with a festival that has been a tradition for over forty years, several festivalgoers enjoyed visiting with long-time friends they do not see very often. It has become a homecoming reunion for some in the small town.

The festival opened in the park Thursday with a pork chop supper prepared by the Atlanta Rotary, carnival rides and games by Zeiler Amusements, musical performances by the Atlanta Band and Community Choir and the Fabulous Hoedads, and Bingo, which took place every night.

Activities continued Friday with a ribeye steak dinner sponsored by the Atlanta Fire Department, the Prince and Princess Contest, and rides and games; though rainy weather that evening did keep many away from the rides.

An All-community Worship in the park provided a wrap up to the weekend of festival fun.

[Angela Reiners]