Las Vegas is booming again, and bracing itself for next slump
Send a link to a friend Share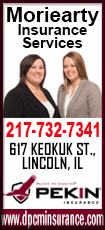 [September 11, 2018] By David Randall

LAS VEGAS (Reuters) - Diane Han is trying to leave the Las Vegas of her childhood behind.

Her mother is a blackjack dealer at Caesar's Palace, one of the mega-casinos on the Las Vegas Strip, while her father works in housekeeping at another. Han, 25, grew up in Las Vegas, but went to college in the Bay Area for college and spent a year there working as a biochemist.

Yet she returned to enroll as a member of the first class at the University of Nevada, Las Vegas School of Medicine. The school opened last year to address a chronic shortage of doctors in Southern Nevada and broaden the city's economic base.

Few cities were hit as hard as Las Vegas by the 2008 financial crisis and recession, which eroded consumer spending on the sort of fast thrills the city had to offer and left it with the highest foreclosure rate in the nation. Home prices plummeted 62 percent from their peak in 2006 to their bottom in 2012, according to data from ATTOM Data Solutions, a real estate tracking firm.

Now Han is part of a group of medical students whose decision to stay and practice in Las Vegas after graduation may give the city hope that it can reduce its reliance on casinos.

"We are in an early stage of building what could be a start-up culture here," Han said. "We're trying to make it a real city, not just a transient one."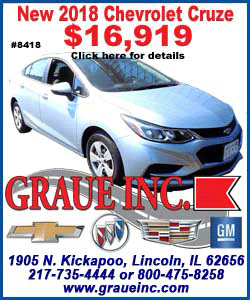 Nevada as a whole lost more jobs in relation to its workforce than any other state, with more than 70 percent of those losses in the Las Vegas region. There, unemployment rate hit 14.2 percent at the depth of the recession, well above the national peak of 10 percent and nearly triple where it was before the downturn began in 2007.

Though construction cranes once again rise above casinos along the Strip, Las Vegas is trying to prepare for the next downturn – whenever that may be - by trying to wean itself off the reliance on housing and hospitality and turning to industries ranging from professional sports to medical care.

"We are trying to build a world class city," says Mayor Carolyn Goodman, citing investments in infrastructure and efforts to woo new businesses.

Yet the question remains whether it will be enough.

Other hard-hit Sun Belt cities, such as Orlando and Phoenix have outpaced Las Vegas in job growth since the crisis and have more diversified economies, said Steven Pedigo, a professor of economic development at New York University. (Graphic: https://tmsnrt.rs/2CIaReC)

"They were absolutely killed and I think it's fair to say that they are only starting to rebound now," Pedigo said about Las Vegas. "If Las Vegas doesn't build some buffer around its economy it will always be a boom and bust town."

BET ON HEALTHCARE

Over the last five years, businesses including Amazon-owned Zappos, data company Switch Inc <SWCH.N> and Amazon.com Inc <AMZN.O> itself have opened new headquarters or regional hubs in the Las Vegas metro area, bringing approximately 3,000 new jobs thanks in part to more than $15 million in tax incentives. But the University of Nevada's medical school is at the core of the city's vision of its future.

By 2030, it is expected to add 8,000 jobs and contribute $1.2 billion annually to the metro area's $111 billion economy. Established with $27 million in state funding, the school now has 143 full-time faculty and employs over 1,000, said Dr. Barbara Atkinson, the school's founding dean.

"The major impetus to start the medical school was the economic impact," she said. "Each new physician that comes here usually hires between two and five other staff people, and they have more than enough patients."

[to top of second column]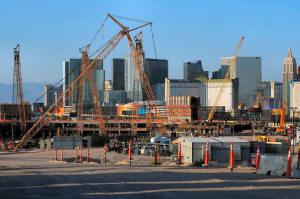 Construction on the new NFL football stadium is seen in Las Vegas, Nevada, U.S., August 26, 2018. Picture taken August 26, 2018. REUTERS/Mike Blake
The city and state have also invested more than $36 million in infrastructure, such as street improvements, and marketing and has another $97 million planned to build out the Las Vegas Medical District. The city expects the cluster of medical office buildings and hospitals four miles (6.44 km) north of the Strip will add 16,000 jobs and contribute $2.4 billion to the local economy annually by 2030.

The improvements are paid in part by bonds issued by a regional transportation agency that administers the Las Vegas region's first planning blueprint to handle what it expects to be a nearly 45 percent population growth by 2045.

Already, there are signs that the economy is shifting. Around 100,000 jobs are in health and education-related fields, an increase of more than 50 percent from 10 years ago, according to the Bureau of Labor Statistics. At the same time, construction employment is down 38 percent at about 65,000.

Yet tourism and hospitality, with its thousands of low-paying, entry-level jobs, still accounts for nearly a third of the region's workforce, three times the national average. Casinos MGM Resorts International <MGM.N>, Caesars Entertainment <CZR.O>, Wynn Resorts <WYNN.O>, and Las Vegas Sands Corp <LVS.N> together employ over 102,400 in the area, according to data from the Las Vegas Global Economic Alliance, a local development group.

HOUSING HANGOVER EASING

Professional sports and legal marijuana may also help broaden the city's economy.

The Vegas Golden Knights hockey team reached the Stanley Cup Finals this year, giving the city its first major professional sports experience. At the south end of the Strip, a $1.8 billion domed stadium for the National Football League's Raiders is under construction and could host the Super Bowl as early as 2023. Tax revenues from marijuana sales, which Nevada legalized in July 2017, surpassed the state's 12-month estimate of $50 million within 10 months.

"We anticipate that recent, modest diversification in employment will provide some marginal resilience in a future recession," Moody's analyst Patrick Liberatore, wrote in a May report upgrading the city's credit rating to Aa2, the third highest investment grade. Still, the area's reliance on tourism "will always leave it exposed to economic downturns," he wrote.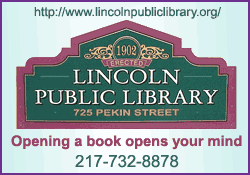 The influx of newcomers into Clark County, Nevada's most populous county with 2.25 million residents, has helped push housing prices up more than 15 percent this year so far, though average prices are still below pre-crisis peaks. Real-estate listing firm Zillow estimates prices will rise another 8 percent over the next 12 months, driven in part by continued arrivals of Californians priced out of their markets.

Whether those gains will last, however, is a matter of debate, with Fitch Ratings recently describing the metro area as the most overpriced market in the country.

"Las Vegans once thought we were recession-proof," said Stephen Miller, a business professor at UNLV. "We learned our lesson and made some progress, but we need to make a lot more."

(Reporting by David Randall; Editing by Jennifer Ablan and Tomasz Janowski)
[© 2018 Thomson Reuters. All rights reserved.]
Copyright 2018 Reuters. All rights reserved. This material may not be published, broadcast, rewritten or redistributed. Thompson Reuters is solely responsible for this content.