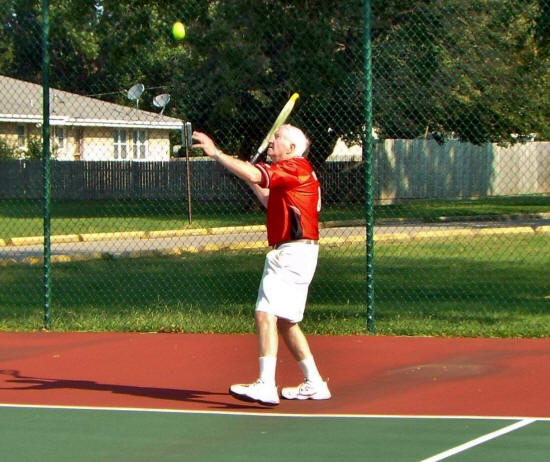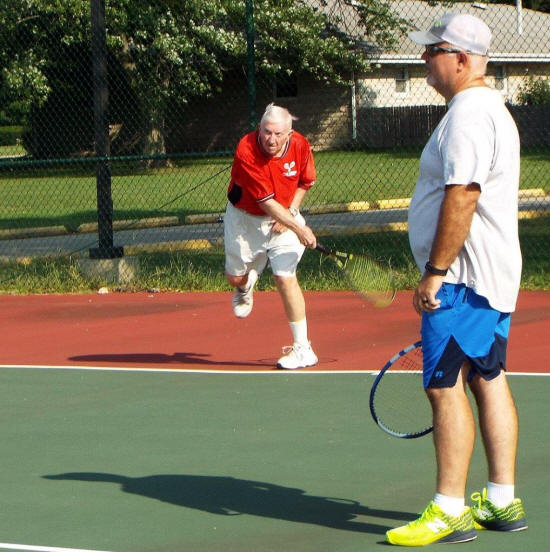 Wilson teamed up on this August morning with Dave Oltmann for practice.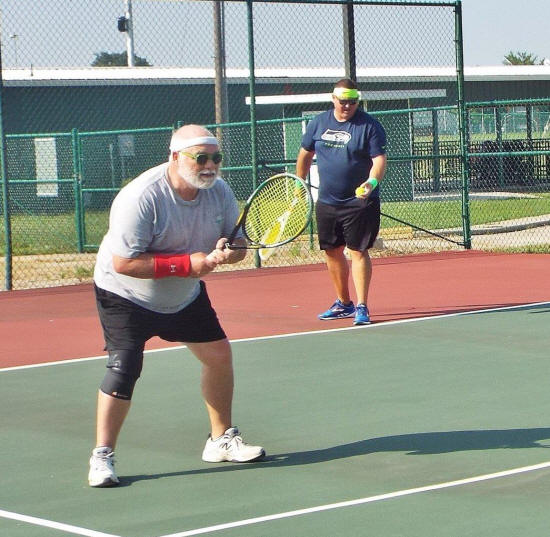 Fierce opposition was posed by Kirby Rogers (left) and Adam Schmidt.

"I was encouraged to compete in the Senior Olympics by the girl's high school tennis coach, Njerri Bere. She played last year and won many medals and told me I had a good chance of winning."

The partners playing two years ago included Gerald Dehner.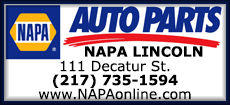 In preparation Wilson said, "I have been playing tennis three times a week and practicing table tennis with Michael Mallick; Moses, my grandson, and Ernie Harvey."

Mr. Wilson has played tennis 40 years and ping-pong 60 years.

You don't have to watch Wilson on the court too long before you see one of his notable winning strategies. He addresses a speeding ball by cleverly tapping it in such a way as to land it just over the net, with a dull 'dink,' sending the competitor rushing forward while groaning (or growling) for an absolute miss.

Pickleball will be in the Olympic tournament this year. Bob Wilson said, "I am a novice at Pickleball. I have started to play within the last few months. It is so much like tennis it isn't hard to learn." He adds, "Pickleball is one of the fastest growing sports right now. There are great health benefits to these events."
Come join the fun! Here is the 80's and older division itinerary at the Illinois Senior Olympics:

Pickleball at Iles Park in Springfield
Thursday, Sept. 13 at 1 p.m. - singles.
Friday, Sept., 14 at 9 a.m. - doubles.
Saturday, Sept., 15 at 9 a.m. - mix.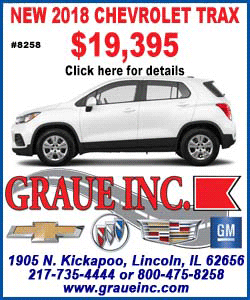 Tennis at Washington Park
Wednesday and Thursday, Sept. 19 and 20 at 9 a.m.

Table tennis will be held at Douglas Avenue Methodist Church
Friday, Sept., 21 at 12 noon- singles
Saturday, Sept. 22 at 8 a.m. for doubles and mixed.

To enter the national games, which are held on odd years, an athlete must qualify in even numbered years at an NSGA sanctioned senior games such as the Illinois games. Qualifying winners at the 2018 Illinois Senior Olympics get to compete in the 2019 National Senior Games presented by Humana in Albuquerque, New Mexico.

National qualifiers are those meeting minimum performance standards (MPS) or the top four placers at a sanctioned National Senior Games Association event, except for tennis and golf. For tennis it is the top three placers and in golf it requires first place and minimum standards to qualify. See http://nsga.com/golf for details.

All entrants must be at least 50 years of age by December 31, 2018. Competitions are divided by five-year age groupings by 10's to four, ie. 50 to 54; and fives to nine, ie. 55 - 59. Get online at Illinois Senior Olympics.com to get your application fees in and age bracket itinerary.

The Illinois Senior Olympics are sponsored by Senior Services of Central Illinois, Health Alliance, Springfield Park District, Advance Health Care Services, Republican Insurance, Blue Cross/Blue Shield, Lavy Senior Center Foundation, and CareLink.

According to Illinois Senior Olympics sponsor Health Alliance Medicare, the Springfield Park District and the Illinois Senior Olympic Advisory Board "are proud to promote healthy lifestyles for adults, particularly seniors 50 years of age and older. According to the Surgeon General and the National Prevention Council, the health-related benefits of regular exercise include a lowered risk of high blood pressure, heart disease, diabetes, and cancer, as well as increase in muscle strength, flexibility, and aerobic capacity. Their recommendation is that all adults get at least 150 minutes of moderately difficult exercise each week, and training for your favorite event is the perfect way to do so."

You can check the link below to learn more about Illinois events coming up soon, a few events have already taken place, and to learn more about next year's nationals.

Let the games begin and good luck to all!

[Catherine Carkulis with contributions by Jan Youngquist]

Find Illinois and National Senior Olymipic event information http://ilseniorolympics. weebly.com/ilsenoly.org/ The oldest athlete to ever compete was 99. Springfield is the only qualifying site for the state of Illinois. The Illinois Senior Olympics is proud to be able to help promote healthy lifestyles for adults, particularly seniors 50 years of age and older.