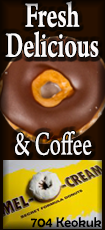 Denise was nominated by her fellow staff.
A staff member stated, "As the employee who provides the transportation for residents to get to and from their needed doctor appointments, Denise can be relied on for going above and beyond all of the time."
When asked what she likes most about her job, Denise says, "I love my residents. I couldn't imagine myself doing anything else other than caring for the elderly." Denise resides in Lincoln. In her spare time she most enjoys camping throughout the summertime.
[Janell Woolard
Community Relations Coordinator]