Friday Culinary judging, a sweet job to have

Send a link to a friend Share
[August 04, 2019] Friday morning at the Logan County Fair always means that one lucky person needs to eat sweets. Yes, needs. The judge of the Culinary judging candies, cakes, and snack foods had a very sweet job for about two hours Friday morning as she carefully went through the multiple entries in each of the three primary categories.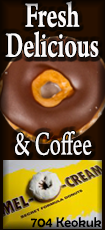 The, judge, Pat McAllister, is a teacher and as such she said that she felt compelled to teach as she went. Being an educated expert on foods, her words carried a lot of weight for those who were on hand to watch the proceedings.

In the three categories this year, there were fewer entries than in past years, especially in the cakes.

McAllister started out saying that we all consume food in a similar manner, starting with our eyes. Food needs to look appetizing. Her first class to judge, candies, need to show uniform size and texture on the plate. She warned cooks to be aware when they are preparing their entries of what the weather conditions are or will be. She noted that certain weather conditions will cause undesirable stickiness in a product and the cook needs to adjust accordingly.

The first category in the candy class was Peanut Cluster and there were several entries. McAllister looked, touched and tasted each entry before making her placing decisions. The first place winner for that category was Allison Matthews.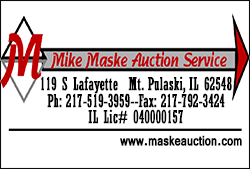 In the Peanut Brittle category there was only one entry belonging to Kathy Buse. McAllister examined and tasted the candy then noted that there are judges who say that a single entry does not necessarily warrant a first place finish. However, she doesn't think that way. She said that if there is one entry, then it's the best entry there, and as such must be given a first place award.

Chocolate Fudge without marshmallow crème was the next category with a number of entries. McAllister noted that she did touch each piece of candy because she was looking for something that was tender and not too dry. She also talked about the judging process, saying that there are competitions where a team of judges are asked to evaluate the entries. With a team she said there were differences of opinion and compromise involved in selecting a best of the best.

When there is only one judge, it is just one judge's opinion. She said what she really likes, another judge might completely disagree and vice versa. Therefore she concluded, "Mine is an opinion. Someone else might not agree, so don't be crushed if your entry doesn't win first prize."

The winner of the category was Melinda Lessen.

There were three entries in the Caramels category. Each of the plates were to contain three pieces of candy individually wrapped. The winning candy in that category was that of Rebecca Johnson.

Most all of the candy and snack food participants had dropped off their entries but did not stay for the judging. Rebecca Johnson was on hand because she would later be talking with the cake winners about competing in the Sunday Cake Classic.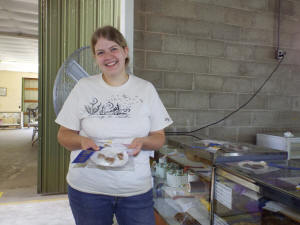 Rebecca posed for a picture with her blue ribbon candy.
In the Fudge with Marshmallow crème there were several entries. McAllister judged each one in a similar style to the previous candies. She did at one point remove three pieces of candy brought to her on a dark red plate and placed them on a white plate. She explained that the fair book did not specify that the plate had to be white, but that contestants should be aware that the color of the plate will alter the visual impact of an item, so use caution when plating on colored plates.

The winner of the category was Kathy Buse.
Moving on, McAllister was next called on to judge the Pretzel Treat category. She noted that on snack foods and candies, creativity is one factor in the judging. However, one particular entry was just a little too creative for her personal taste.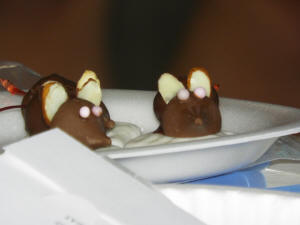 The entry was a plate with three mice on it. The mice had been carefully constructed with a bark coated pretzel as the base. A Marciano Cherry complete with stem was the body of each mouse. The head was a candy kiss with pale pink candy pearls for eyes and sliced almonds for ears.

McAllister said that many, many people would consider the treat to be cute, but for herself, she grew up in an old farmhouse, and mice were not cute. She did however examine and taste the candy. As she raised it to her mouth she commented, "This takes guts."

The winner in the pretzel treat category was Julie Cross.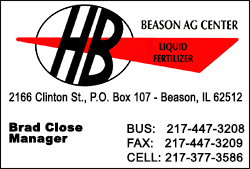 The Caramel Corn category had three entries with Darlene Crider being named the winner. Crider also won the Trail Mix category.

The largest group of the day in the snack foods was that of the No Bake Cereal Treats. McAllister had a number of entries to examine and taste. She took her time and in the end chose the entry submitted by Gail O'Donohue.

McAllister did note that on judging day, the judges will be looking at the finished product in front of them. She said that what is intended when creating the entry is not necessarily what comes out in the end. The judge doesn't know if the product presented is what the contestant intended for it to look and taste like. The judge works in the here and now.

That concluded the candies and snack food judging and McAllister then moved on to judging of the cakes.

[Nila Smith]