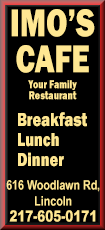 The livestock entries included rabbits, poultry, pigs, sheep and cattle. The 4-H youngsters paraded their animals around the ring one last time hoping to gain high bids from the audience.

Auctioneers Dan Naughton, Mike Maske, Reid Sanert and Les Payne encouraged the audience to make high bids on the livestock as Chelsea Coers read off kid's names and the animal up for auction.

The 4-H auction is an important part of the fair for the kids, who receive the money bid on an animal. This money helps contribute to the cost of raising and showing the animal, which can be substantial. In addition to high feed costs, there are also veterinary costs for health checks the animals must have to qualify.

Those showing animals have also put much time and effort in. Reaping a healthy bid for all that has gone into showing an animal is rewarding.

Amy Naughton, who was keeping the records of the items, bids and purchasers said the auction really helps with the various programming costs incurred when the kids must spend so much money and time preparing for the shows. The money also helps some of them pay for college.

The buyers pay the amount of the bid minus the market prices, which is currently $1.10 per pound for steers, 55 cents per pound for barrows [male pigs] and $1.50 per pound for wether sheep.

Fifteen steers were between 1,050 and 1,330 pounds received bids ranging from $1.20 to $3.50 per pound.

The top sale of the day was for Vivienne Pratt's 1,260-pound prize-winning Simmental steer, which was purchased for $3,024 by group that included Chris Graue with Chevy, Gehrke Farms, Wayne Litwiller Excavating, the Farmhouse in Delavan, Gehrke Trucking, Elite's Electric in Hopedale, Rohlfs Implement in Tremont, Ragland Buildings in Hopedale and Early Bird Feed and Fertilizer.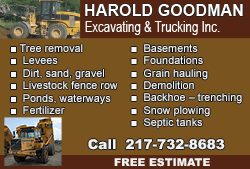 Twenty-one barrows between 178 and 288 pounds received bids ranging from $1.50 to $11.00 per pound. The highest sale in the group was Olivia Smith's 269-pound Duroc barrow, which was purchased for $2,800 by the Alan Schmidt and sons of Central Illinois Ag.

Seven sheep between 110 and 177 pounds received bids ranging from $3.00 to $9.00 per pound. The biggest sale in this group was Rohan Allspach's 147-pound crossbred sheep, which was purchased for $1,100 by Herrin Fertilizer.
William Stambaugh's reserve champion rabbit, the only one up for auction, was purchased for $600 by Head Brother's Cattle.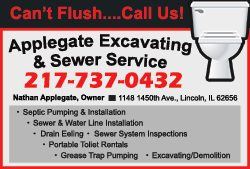 Shelby Heyen's Champion Meat Pen poultry sold for $1,000.

Many of the livestock will be shown by the kids again next year, then eventually go to market.

During the auction, there were also awards given out to last year's winners.

Hollis Conrady was awarded a trophy and $250 for his champion swine and Arianna Hinkle was awarded a trophy from Schwantz farms and $400 for her champion beef.

Logan County Farm Bureau President Dave Opperman thanked all their supporters.

Once the sale had ended, the auctioneers thanked all the buyers who helped support the 4-H members who show their livestock and work so hard raising them.

[Angela Reiners]