Lincoln Junior High School student orientation/ community open house highlights new meal plans, Chrome Books and STEM Lab


Send a link to a friend Share
[August 17, 2019] LINCOLN - Wednesday evening Lincoln Junior High School held a student orientation and open house for the three hundred sixty students who will be attending classes this year and their parents. New this year was an invitation extended to community members to attend also to find out what is new at LJHS.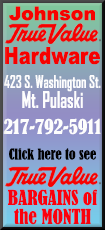 After welcoming remarks by LJHS Principal Michael Workman and his staff, students divided into lines to register for classes.

One unique aspect for students who attend LJHS is being assigned a Chrome Book computer that will follow them throughout their student days from sixth through eighth grade at the school. The sixth grade students will receive a new computer while the seventh and eighth graders will get the computer they used the previous year. The students receive the computer at no cost and are responsible for its care during their three years at the school.

New this year is an exciting program that aims to make all of the meals served at the school from scratch. This is a partnership between LJHS, Abraham Lincoln Memorial Hospital, and Beyond Green, a consultant on school food programs.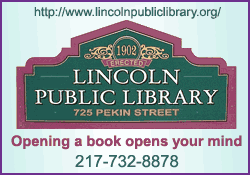 Not only will the meals be made from scratch with healthy ingredients, the food for the breakfast and lunch programs will be sourced locally. Food service staff has been trained in this new direction for meals at the school. Students receive breakfast and lunch at no cost. Watch the Junior High Face Book page for more information on this program. There will be opportunities to attend cooking demonstrations and offer comments on the meals that are served.

"The STEM program at LJHS is one of the most innovative in the state," said science teacher Trent Kavelman.
A STEM lab has been dedicated for students use with a grant from Eaton Corporation. Students can explore all aspects of Science, Technology, Engineering, and Math under the guidance of a dedicated STEM Lab teacher.
"We transfer information students learn from the STEM Lab to the classroom," said Kavelman.
At the end of the orientation, the teachers at LJHS were introduced to the overflow crowd and then headed to their classrooms where they could meet their students for the coming year.

Several parents were heard to comment that they were sending their second or third student to the school and the same dedicated teacher. One mother expressed relief that the third daughter she has enrolled at LJHS will have the same home room teacher that her other two kids had. That certainly speaks highly of the quality of teachers at LJHS. The teacher she was heaping accolades on rattled off the names of her other daughters even though they had long ago graduated to high school.

The LJHS Open House also invited community organizations to set up information exhibits to let everyone know how they are involved in the area. The Lincoln Heritage Museum, Heritage in Flight Museum; Lincoln Public Library, which has the ability to remotely sign up new patrons for a library card; Lincoln Park District, ALMH, Moms Who Care, and The Center for Creativity and Community were among the more than a dozen organizations displaying their involvement in Lincoln.

The evening ended with an ice cream social in the lobby served up by faculty and staff.

[Curtis Fox]