University of Illinois makes it official - Lincoln's Jermaine Hamlin will wear the Orange and Blue
Send a link to a friend Share
Jermaine Hamlin is proof that good news travels fast. Social media was buzzing last weekend about the 2019 graduate of Lincoln Community High School becoming a member of the Fighting Illini Men's Basketball Team in Champaign-Urbana. This week the Illini made the news official.

On Tuesday, Hamlin arrived on the University of Illinois campus and was quickly photographed in a Fighting Illini jersey, palming a basketball and wearing number 14 across his chest. It was a big turnaround from his previous plans to attend Link Year Prep in Branson, Missouri. Hamlin's jump to the U of I transpired rather quickly, in a matter of weeks, due much in part to his success this summer playing basketball for Bradley Beal Elite in St. Louis.

Hamlin was widely-known for having an exciting Railer senior season in the 2018-19 campaign. His rim-rattling dunks and monster blocks will go down in Railer history as some of the best ever. He was undoubtedly a fan favorite, not only getting Railer Nation fired up, but often the opposing teams' fans as well.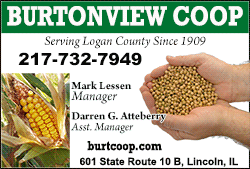 Hamlin improved his basketball skills immensely while wearing the Railer uniform and Lincoln Head Basketball Coach Neil Alexander sees a very bright future ahead for this young man.

"We've said all along that we think his skill level is really high and it's up to him to reach that," said Alexander. "He's getting an opportunity to play in one of the best conferences in the country against the best players in the country. I truly believe, give him two, three or four more years he will be one of those best players in the country. The improvement that he made over the four years that he was here and played in our program was as much as I've ever seen out of a player that I've had. It's up to him now. We've got him the opportunity and he's earned the opportunity from his play and it now becomes a whole different ballgame for him. He's not going to be playing against kids half his size. He's going to be playing guys who are looking him eye to eye. If he does everything the way he should, I think he'll be a very popular young man."

Did Hamlin himself ever see this day coming?

"Well, the past few years, no," the 6'10 Illini freshman said. "It never came to my mind that something like this would happen but obviously Coach Underwood appreciates and likes what he sees in me so I am here for a reason and I'll make the best of the opportunity."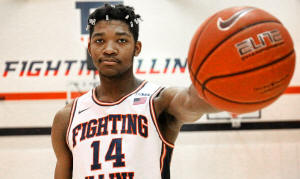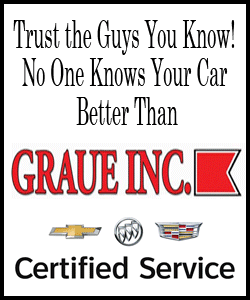 Hamlin has already spent a couple days this week getting acclimated to the U of I campus and he says, "So far it's been pretty good. I like my teammates that I have met so far. They are good people and good to be around. It's a good environment here. The campus is large and there are a lot of people. It's a lot bigger than Lincoln, Illinois."

Hamlin already has his schedule and classes set up. Monday is the first day of classes. He will also begin weightlifting on Monday.
As most Railer fans know, there is an Alexander connection that runs between Lincoln and Champaign-Urbana. Neil and Denise Alexander's son, Geoff Alexander, is the Assistant to Head Coach Brad Underwood at the University of Illinois.

So what does that mean to Hamlin?

"It's pretty exciting to still have the Alexander family watching over me," he said.

As far as that jersey number Hamlin was sporting in the press release picture, well let's just say Lincoln fans don't be too quick to bet he's going to stay number 14. Hamlin said he was just given the number 14 for the picture.

"I am pretty sure they are thinking about giving me number 34," said Hamlin. "My old high school number."

Number 34 should also ring a bell with fans as the number that another former Railer and Fighting Illini player wore ~ Brian Cook. A nice coincidence that makes Hamlin feel "pretty historic."

Finally Hamlin had a message for Railer Nation:


"I would like to say thank you to the community for supporting me over the years. They've always been there watching me and they've always had my back. Just the love that I've got from that crowd has been really amazing. I am going to try as hard as I can to represent the town and work hard and do what I need to do to be successful here."

And we have a message for Hamlin from LDN: "Congratulations Jermaine, we are excited too, look forward to following your successes, and wish you well!"

[Teena Lowery]
University of Illinois press release