Retiring administrators see Lincoln Public Library into electronic age



Send a link to a friend Share
The Lincoln Public Library's neoclassical style Carnegie building reminisces age in beauty and grace. The 1902 building has been carefully preserved, solid inside and out.

But don't let the sense of old and slow fool you. The stuff that goes on inside is not what it used to be. It is better..., way better!

Going back 117 years ago people could not possibly conceive what going to the library would mean today. The electronic age and the internet have changed everything - how data for research or leisure is stored and shared.

What is offered today at the Lincoln Public Library has taken effort to develop and is a testament to great leadership.

To Lincoln's good fortune Richard Sumrall has been head librarian forging an ever changing a path that accesses electronic data, while maintaining traditional books, magazines, other hard goods and manual search methods.

Your grandma's library has grown exponentially. She still likes it and it gives you more too.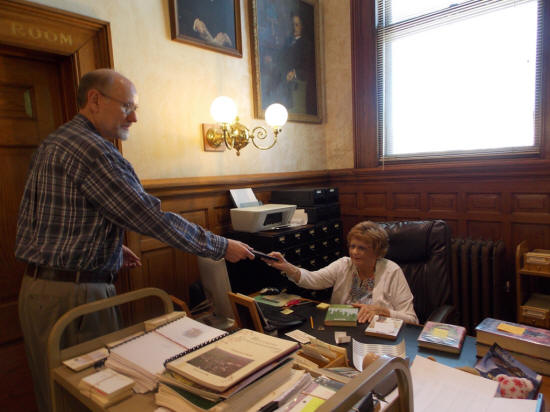 There are some changes coming soon that will be a loss for the library and its patrons. The Lincoln Public Library will miss the smiling faces of Mr. Richard Sumrall, who is retiring in March 2020, and Ms. Sue Rehtmeyer retiring in January 2020.

Sumrall has been dedicated as the library director for 28 years, dutifully watching over the staff, responsible for the administration and management of the library, its building, personnel, finances, collections, services, and seeing the spring summer and fall/winter children's programs through.

During the course of Sumrall's time in Lincoln, libraries in general have gone beyond the printed page. "We have seen changes through videos, DVD's, audio books, public access Internet, free Wi-Fi, and other E-resources," said Sumrall.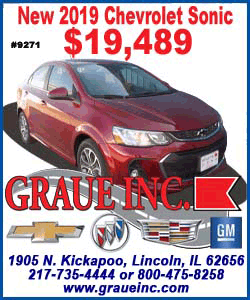 A bit about Richard Sumrall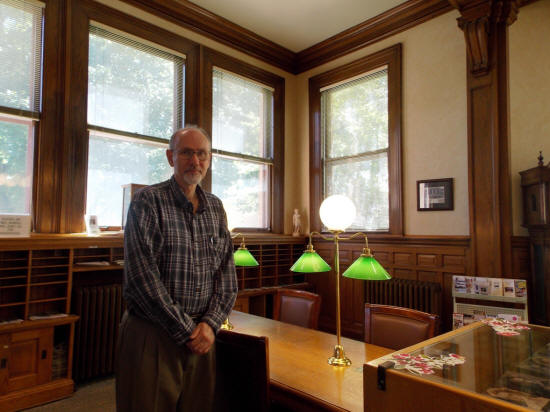 In 1976 Sumrall began his career in Library Systems with degrees that gave him depth and tools for the future. "I have a Bachelor's Degree in History with a minor in English, and then I have a Masters Degree in Library Science and Information," Sumrall said.

Library Science has a lot of research involved. Sumrall said, "Well, there is a lot of work to it. Most people who try to aspire to the upper levels of library work usually have what is called an MLS. One of the best programs in the country is at the University of Illinois in Champaign. People here in central Illinois are very lucky to have a MLS program nearby."

Mr. Sumrall attended the University of Southern Mississippi, Hattiesburg in 1989 and 1990 to get his MLS.

Mr. Sumrall misses it there (Mississippi) in the winter, but not so much in the hot-hot summertime.

The library director, who is diligent, has worked at three different libraries since 1976. "For nine years I worked in the Mobile, Alabama Public Library, which is a large metropolitan library. Then for six years, I worked in the Mobile Municipal Archives and Records Management Department of the city, which included a special library service there."

He came to Lincoln in 1991 when he was hired at the Lincoln Public Library District.

Back in 2002, Mr. Sumrall received the Courier Citizen of the Year Award, for which he felt genuinely honored.

Then he was honored to receive a Professional Staff of the Year Award from the former Rolling Prairie Library System.

"I was awarded, but it counted in part to the library's success. That is something I am proud of.

"I know in past years when we had a Chamber of Commerce and the mainstream of Lincoln would have a celebratory anniversary, they would honor us in some way with a plaque or something. That was always nice to be recognized by them," said Sumrall.

Assistant Librarian Sue Rehtmeyer has helped Sumrall throughout the years of his being a director. Rehtmeyer sits right outside his door. "She helps me with everything. She is the assistant librarian and head of the entire Technical Services Department. She is in charge in my absence. I am very lucky that she is here," said Sumrall.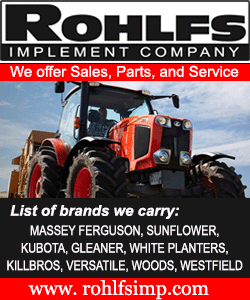 The Lincoln Public Library serves over thirteen thousand residents and has 17 employees, four full-time and 13 part-time.

Caroline Kiest is the full-time employee who works up front and helps everyone with the public computers. She is the reference librarian. All of the questions that come in, such as finding maps to San Antonio, Texas, or a good book on frogs in Illinois; whatever it is, she is in charge of that.

The full-time employee in the Annex is April Jensen. Sumrall said, "April is the circulation manager and she is in charge of all of the circulation services and the enormous computer database that we live and die by around here. If it goes down we have to check items out the old fashioned way. I am very lucky to have a full-time staff like that."

It's not so long ago some residents will remember, you used a card file to look up books you wanted to find. You can still use a card file if you wish. But back in the time when you would check out, you signed a library card, the book and card were hand-stamped with a due date.

Now the director with the help of his staff has made finding and checking out materials more efficient.

An electronic search system provides fast and expanded information - supplying what other books the author has written and if they might be brought in from other libraries, copious other details are made available almost instantaneously with a few strikes on the keyboard.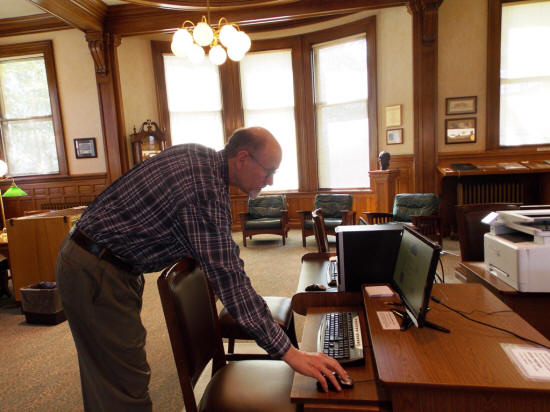 "The use of the library card catalogue on our website is an example of change," Sumrall said. "You just go to our website and in the main menu click search library catalogue and you can not only search our catalogue but the entire library system's card catalogue. You can put items on hold and request other items. It is all automated," he said. And then patrons can, "Come to pick it up at Lincoln Library and return it here; there is no charge," he said.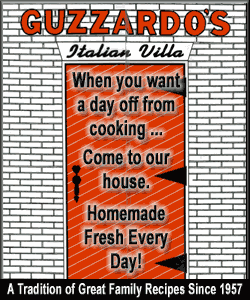 There are also multiple forms of new media such as DVD's, audio books, and electronic books for the downloading to personal electronic devices and more continue to become available.
Lincoln Public Library has always been a participating member of the automated circulation systems offered by the Rolling Prairie Library System and the Illinois Heartland Library System.

Apple computers were introduced in the 1980's to help with basic library card functions. Fast forward to today and the Lincoln Library District offers free internet access on public computers, free Wi-Fi, color/b&w printing, and wireless printing from a personal device. All that is what Director Sumrall has helped to get for the Library District each year.

As he is preparing to take leave of the library, Mr. Sumrall says he is proud of taking the already successful reading program and adding new things; especially to create programs for the kids, such as the STEM program that integrates science, technology, engineering and math. Particular children's programs Sumrall thinks best suited for the children in Lincoln are being brought to the forefront, in addition to the 'craft programs.'


The director said the craft programs have more to do with computers and coding little automated devices, that kind of science and technology, things that the boys and girls really love.

"I am really proud of that and I am really proud that we improved our teen program so that they have things to do so they have positive experiences here at the library. We are not only expanding our collections in the youth services department, but also offering programs for older teens that they would enjoy.

"I am really proud of those accomplishments that we've made here at the library - not only during summer reading programs, but at other times of the year," Sumrall said.

When asked if he would ever like to see this library expand or be rebuilt, Sumrall answered, "The library is a district, so it is on its own form of government similar to the school districts and other special districts."

"As libraries head more into electronic services, like e-books, e-audio books, streaming video, that kind of thing; it means you need less space to house physical books and physical DVD's."

"Right now electronic services is a real juggling act," Sumrall said, "We offer two different e-book services and one e-magazine service through our website to all of our library card holders, and there is no charge for that.

"That means that you don't need all that extra space for all of those extra books and extra magazines because they are electronic. It is kind of the way things are happening.

"So I am not sure this library is going to see an expansion of physical space. Perhaps it's more of an idea of using the physical space in a different way in the future."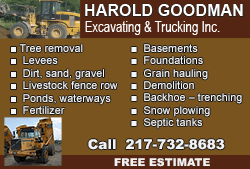 Sumrall mentioned, "We try to display any new books in our new books section out front and in our new display case right outside the door. And, in the other building (the Annex) there is a new books section and the staff likes to put some of the new ones on top of that bookcase as well."

And, Sumrall says, they try to interest people with the newest things when they walk into the front door, "We try to keep the best sellers list of the New York Times posted in both buildings. We kind of color code it to let other people know we either have it or we have that title on order. That is kept at the circulation desk of the Annex."

Keeping the building at its finest

The best and most successful fundraisers that Sumrall ventured with the Lincoln Public Library District were held in the years 1988, 2001, and 2003. "In those years we raised money to purchase exact reproductions of the original brass light fixtures in the Carnegie building.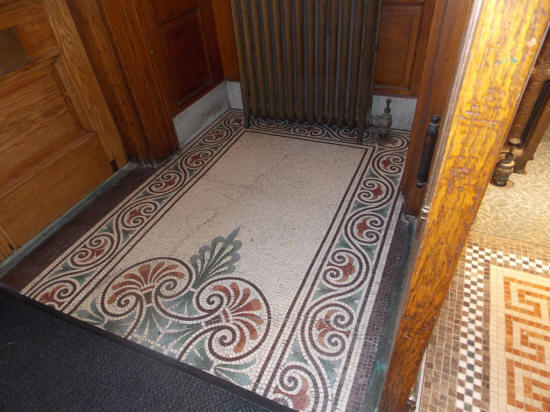 "We also made significant restoration to both mosaic tile floors in the Carnegie building's front entrance and the original oak doors at that same entrance," he said.

Each year there is a library used book sale. Sumrall has made it a bargain for everyone to purchase books at an incredibly reasonable rate, a buck-a-bag.

That sale is this weekend, Saturday, August 24th from 9 a.m. to 5 p.m. and Sunday, August 25th, 10 a.m. to 2 p.m. Everyone has been working hard to prepare lots of great finds for book treasure seekers.

There are also added events for the family on Saturday from 10 a.m. to 4 p.m. - petting zoo, giant games, caulk art and crafts for kids.

"We work very hard on the used book sale program. It has been very successful over the years. We do it as a fun program for the entire community. We do it to get discarded books and donated books into the hands of people that want them. You can take as many bags as you would like," he said.

"We do have to weed the collection of books (on the library shelves) periodically, such as old books, damaged books, books where the information may be out-of-date. We don't want to throw them away. We want to give them to the people as cheaply as possible. Normally, any proceeds from that, we use to buy new books for the library. So it's kind of a cyclical process," said Sumrall.

As director Sumrall has greatly appreciated working for the community and the library board, helping make rules for the library district and plans for the upcoming year.

He encourages all to come to the library and read. Participate in the children's programs with family and to get involved with such programs as the Harry Potter Day or Lego Day, which are a great turnout and learning adventure for the children.

The library staff, Board of Trustees and the community are sure to miss a great, considerate and dedicated director who has issued in much change and updated programs to the Lincoln community.

Although Sumrall does not know who his successor might be, he hopes he/she will be thinking of future goals for the library, such as adding public access to streaming music, e-resources, collections, especially regarding streaming video and audio.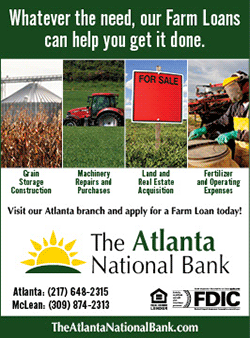 "Probably my successor will be thinking about streaming music as an option to offer to the community. My guess is that my successor is going to be thinking about more electronic services through the website and maybe fewer physical holdings," Sumrall said.

What Mr. Sumrall now plans beyond his retirement is to spend more time with his family in Alabama and to stay active in the Lincoln community. He said he might consider joining a book club as he hadn't had time to do so before.

[Catherine Carkulis]