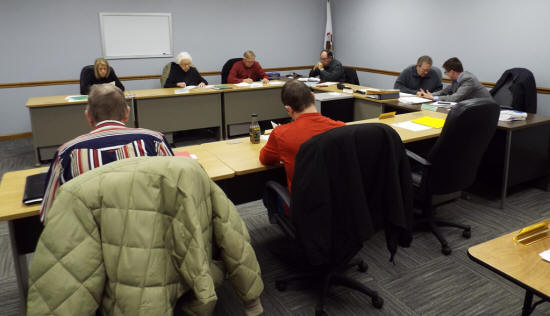 At the Tuesday night meeting of the Atlanta City council, a vote was taken to authorize Mayor Fred Finchum to sign the necessary documents to secure the purchase of the Atlanta Golf Course for the city. The motion passed with Aldermen Adam McVey, Billie Cheek, Amber Finchum, Andrea Halley and Mayor Finchum voting 'yes'. Alderman Keith Eimer abstained from the vote and Tommy Young voted "no." The golf course will be purchased for $210,000, approximately $40,000 below appraised value.

LDN will have complete coverage from this meeting in its Thursday edition.
Photo by Nila Smith (Click on Image to enlarge)
Lincoln College President Dr. David Gerlach presents a Lincoln portrait to Dr. Kevin Xing Wang, director of the International Office of Shenyang Jianzhu University during his visit to Lincoln College on Friday, February 1st.

Dr. Wang was in Lincoln to tour the Lincoln College campus and discuss a planned visiting student program to be launched with Lincoln College next fall.

LC's Vice-President for Academic Affairs Dr. Hamin Shabazz and MacKinnon School of Business Division Chair Dr. Jonathon Pierce made a similar visit to Shenyang Jianzhu University, Shenyang, Liaoning Province in northeastern China, in December.
Photo by Mark Gordon (Click on Image to enlarge)