Country Financial® supports Atlanta First Responders with equipment funding through Operation Helping Heroes donation



Send a link to a friend Share
COUNTRY Financial Representative Adam Nagrocki is pleased to announce the Atlanta Rescue Squad and Fire Department as 2019 recipients of a $1500.00 COUNTRY Financial Operation Helping Heroes donation. Nagrocki recently presented each first responder agency a check for $750.00 to assist with the purchase of new equipment.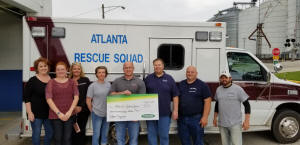 The rescue squad's volunteers plan to use the funds to upgrade their heart monitor. Fire department volunteers anticipate purchasing new specialized equipment to better serve the community. In addition to making the donation, Nagrocki and first responders are both encouraging community members to participate in fundraiser events and volunteer with each organization.

"We are definitely in need of volunteers, especially those that can be around during normal work hours," said Dawn Wintz, Atlanta Rescue Squad first responder. "We currently must have Lincoln Rural Fire Department come during the hours of 7 and 5 due to most all of our responding members holding full-time day jobs."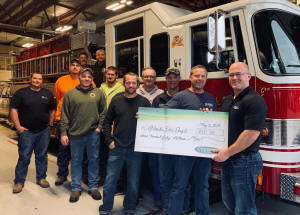 Each year, the fire department holds community fundraisers, such as the sausage pancake breakfast, and a steak night that is part of the Atlanta Fall Festival, coming up September 12-15. The Atlanta Rescue Squad holds an annual chili fundraiser in the fall.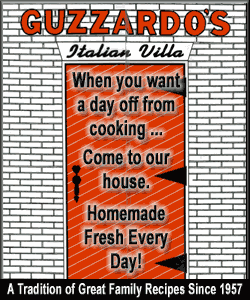 "As a resident of Atlanta with two children in the Olympia School District and the opportunity to serve the community through the Atlanta Memorial Park Board, I am excited for COUNTRY Financial to help further support the community I call home with this donation, and ask other residents to do the same," said Nagrocki. "I understand the importance of having a community resource to call in your time of need."

Nagrocki also is announcing plans to open a satellite office in Atlanta, located at 114 SW 1st St, on August 15, 2019, in addition to his current office in Lincoln, IL.

"I look forward to supporting and servicing the Atlanta area for many years to come," he added.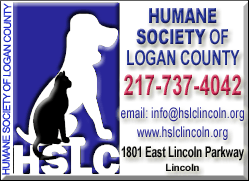 COUNTRY Financial initiated Operation Helping Heroes in 2015 to support non-profit events and programs that benefit active duty service members, veterans and their families. More recently, Operation Helping Heroes expanded to provide support for emergency first responders. In 2019, COUNTRY Financial and its financial representatives have already provided more than $600,000 in donations to first responders and service members.
About COUNTRY Financial®

COUNTRY Financial serves about one million households and businesses throughout the United States and offers a full range of financial products and services from auto, home, business, farm and life insurance to retirement planning services, investment management and annuities.
[Chris Coplan
Public Relations Specialist]