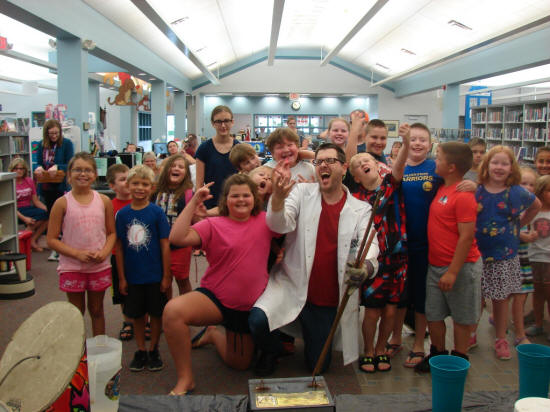 Science Guy helps kids figure it out


Send a link to a friend Share
[July 26, 2019] LINCOLN - The Mad Scientist is in the house! The Lincoln Public Library Summer Reading Program "It's Showtime at Your Library" brought Professor Tim to present a science show for Thursday's morning entertainment. Professor Tim traveled from St. Louis to dazzle his young audience with experiments.
Tim Collins, aka Professor Tim, is a professional actor who travels the country giving over fifty science programs during the summer. "The rest of the year, I present one-man shows for kindergarten through college about topics like bullying and violence prevention," he said.

Thursday morning, his science demonstration led his young readers through chemical reactions, the properties of sound waves, and electricity. He not only showed examples of each, but asked his audience to create a hypothesis about how they worked. "Tell me how something so strange as changing water into a solid works," he asked after he actually did it. He then prompted each volunteer with a series of questions that lead them to a hypothesis and finally the answer.

By the end, the kids knew not only about the subjects, but also how to think about a problem, create a hypothesis, and reason to solve it. He even had parents in the back shouting out their theories.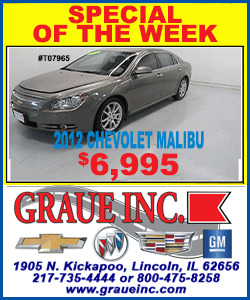 Professor Tim created a science show with laughter and enthusiasm. Isn't that the best way to learn!

The last program in the Thursday morning entertainment series at the Lincoln Public Library summer reading program is Thursday, July 25 with magic on the agenda.

Miss Tegan reminded everyone that their reading logs are due no later than July 26. Each participant will get a one-of-a-kind Lincoln Public Library Summer Reading Program T-shirt.

[Curtis Fox]