Visitation: 4:00-7:00 p.m. on Monday, July 29, 2019 at Fricke-Calvert-Schrader Funeral Home in Lincoln
Service: 10:00 a.m. on Tuesday at the funeral home
Funeral home: Fricke-Calvert-Schrader, Lincoln
Obituary
Marlene Ely, 83, of Lincoln passed away on Thursday, July 25, 2019 at St. Clara's Manor in Lincoln.

Marlene was born on July 1, 1936 in Broadwell, the daughter of Harrison and Eva (Rainwater) Cook. She married Kenneth Ely on February 21, 1954 in Broadwell. He preceded her in death on October 5, 2005.

Marlene is survived by her sons, Ken Ely, Greg (Krista) Ely, Randy (Gwen) Ely, and Mitchell (Aletha) Ely; her daughter, Beth (Kurt) Bushnell; her 15 grandchildren; 16 great-grandchildren; and numerous nieces and nephews.

Marlene was preceded in death by her parents; her husband; her son, Brian; four brothers; and five sisters.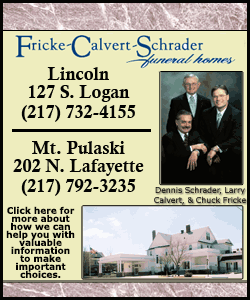 Marlene cooked for thousands of children during her time at Lincoln Community High School and Chester East Lincoln. Marlene also served as a job coach at Logan, Mason, Menard Mental Health for many years. She later took a position as a job coach and a variety of other titles at Lincoln College. Marlene loved and was a masterful gardener, she also enjoyed spending time sewing. Above all else, Marlene loved her family; especially her grandchildren and great-grandchildren.

Services for Marlene will be held at 10:00 a.m. on Tuesday, July 30, 2019 at Fricke-Calvert-Schrader Funeral Home in Lincoln. Visitation will take place from 4:00-7:00 p.m. on Monday, July 29, 2019 also at the funeral home.

Burial will follow the services at Zion Cemetery in Lincoln.
Click here to send a note of condolence to the family of Marlene Ely