The Alzheimer's Association summer safety tips
Ways your loved one with Alzheimer's can have a safe summer
Send a link to a friend Share
[July 29, 2019] The pleasures of summer include longer, warmer and sunnier days, celebrations with family and friends, pool parties and backyard BBQs.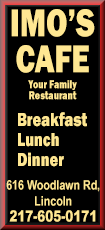 For the person caring for a loved one with Alzheimer's disease, summer can also bring with it additional safety challenges. The Alzheimer's Association Illinois Chapter offers summer safety tips for those living with Alzheimer's disease, so families can enjoy a fulfilling and pleasant summertime together.

Keeping a Loved One with Alzheimer's Safe in the Summer

• Limit sun exposure. Place lawn chairs in shaded areas. Stay indoors between 10 a.m. and 2 p.m. when the sun's rays are the strongest. Encourage your loved one to wear a hat and sunglasses.

• Apply sunscreen regularly. An individual with Alzheimer's may not remember to put on sunscreen, so be sure to remind your loved to apply and reapply sunscreen when outside for long periods of time.

• Stay hydrated. During the summer it is especially important to drink lots of fluids. Keep a cool glass of water within arm's reach as a reminder. Add a flavor to the water to make it more interesting and tasty. Provide non-alcoholic beer or lemonade for backyard BBQs.
• Dress appropriately. Decision making may be increasingly difficult so dressing for hot days can be hard. Put away winter clothes, boots, gloves and hats, and replace them with just one or two choices of shirts, pants or shorts/skirts, a hat with a large brim and a light jacket or sweater.

• Avoid loud noises and crowds. Both loud noises and crowds can be overwhelming for someone with dementia. Consider watching fireworks from your home or in the quiet of the car and parades on television; picnic on a weekday or early in the day on a weekend when crowds are lighter.

• Be watchful around fire and water. It's best to have any home pools protected by a fence but keep a watchful eye on any seniors who may wander to prevent an accident. Do not allow an individual with Alzheimer's disease to swim unsupervised. Also, never allow unsupervised access to fire pits, and the hot surfaces of BBQ grills or campfires.

• Plan Ahead. Consider simplifying travel plans or traveling to a familiar destination. Most airlines offer companion programs for those traveling with special needs. That way you can be assured a loved one has arrived safely or made a connection without any problems.
Alzheimer's Association's Tips to Prevent Wandering:
Carry out daily activities: Having a routine can provide structure. Consider creating a daily plan.

Avoid busy places: Shopping malls and grocery stores can be confusing causing disorientation

Night wandering: Restrict fluids two hours before bedtime and ensure the person has gone to the bathroom just before bed. Also, use night lights throughout the home or facility.

Locks: Place out of sight. Install slide bolts at the top or bottom of doors.

Doors and doorknobs: Camouflage doors by painting them the same colors as the walls. Cover them with removable curtains or screens. Cover knobs with cloth in the color of the door or use childproof knobs.

Monitoring devices: Try devices that signal when a door or window is opened. Place a pressure-sensitive mat at the door or bedside to alert of movement.

Secure trigger items: Some people will not go out without a coat, hat, pocketbook, keys, wallet, etc. Making these items unavailable can prevent wandering.
About the Alzheimer's Association Illinois Chapter:

The Alzheimer's Association® is the world's leading voluntary health organization in Alzheimer's research, care and support. Our mission is to eliminate Alzheimer's disease through the advancement of research; to provide and enhance care and support for all affected; and to reduce the risk of dementia through the promotion of brain health. The Alzheimer's Association Illinois Chapter covers an 87-county area with offices in Chicago, Joliet, Rockford, Springfield, Bloomington, Peoria, Quincy and Carbondale. Since 1980, the Chapter has provided reliable information and care consultation; created supportive services for families; increased funding for dementia research; and influenced public policy changes. The Illinois Chapter serves more than half a million Illinois residents affected by Alzheimer's disease, including more than 220,000 Illinois residents living with the disease. Our vision is a world without Alzheimer's®. For more information visit www.alz.org/illinois or call our free 24/7 Helpline at 800.272.3900.
[Kaylin Risvold, Senior Manager, Media Relations]