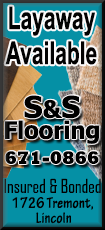 The cut was prefaced by acknowledgement of the anniversary of D-Day and a request for a few words from local veteran Joe Schaler. Also on hand Friday for the cut was a second well known and much appreciated veteran Bill Gossett, who served during World War II, and a number of other veterans that were invited by the Drews.

The Drews had asked that the anniversary of D-Day be remembered at their cut as a show of love and respect for our veterans and the freedom they have provided for all of us.

As all gathered behind the ribbon in preparation for the cut, Schaler was called forward from the crowd. He spoke briefly noting the importance of the day in our American history and how D-Day was the turning point of World War II.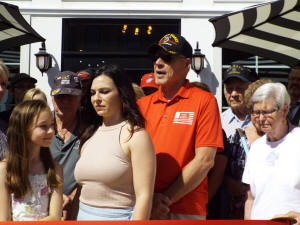 Schaler said what our veterans have given is so important to all of us and it is important that we honor them, and the best way to do so is to 'pay it forward' by honoring those who are serving now, and continually showing our love and respect to all veterans for their service to our country.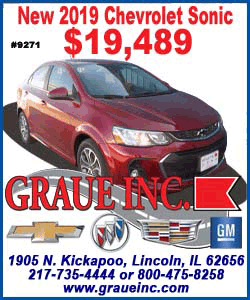 The crowd was acknowledged with emcee Nila Smith saying that with so many present, it was going to take a lot of time to name each one, she would therefore acknowledge there were many guests present representing the city government, as well as the county government. She also noted that it was endearing to see that there were several downtown business owners on hand. It served as a testament that within the city, while many of us compete for business, we are all still part of a special family that keeps our downtown thriving.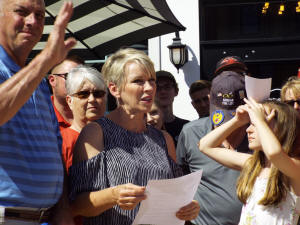 Lisa Drew was the first one to speak on behalf of Sorrento's. Giovanni and Anna Curcuru with their son Sam and daughter Nina settled in Lincoln in 1969. They came from Sicily traveling Route 66 looking for a place to call home.

Drew spoke of this saying that the family passed many towns, but they didn't stop until they reached Lincoln. The first restaurant was opened on Chicago Street, but only for a short time before moving to the corner of Chicago and Pulaski where it remained until 1998. When Sam died in '98, Lisa and her children moved the restaurant to 521 Broadway Street where they stayed for six years. Then they moved again, this time to 604 Broadway where they stayed for 15 years. Lisa remarried in 2005 and Jim Drew became a big part of the family-owned business. In 2018, the pizzeria made what Lisa says is its last move to 614 Broadway Street.

The family is fully invested in the restaurant and Drew noted her son Tony is a big part of the restaurant and that daughter Jetty and even grand-daughter Mia are also involved and now make up what is four generations of the family owned business.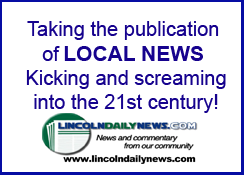 Drew commented, "I'm not sure that Giovanni, Anna, Sam or Nina had any idea that this pizzeria would be a part of Lincoln after 50 years, but I am sure they would all be proud and would want us to tell you all hello."

Drew went on to express appreciation to a large number of people. She noted that today the restaurant serves families and enjoys seeing multiple generations coming into their business. She acknowledged a tremendously dedicated and hardworking staff who gives all they have to make the business a success. She noted her children and said while some were not able to join them on this day she was happy and thankful for their support. She also acknowledged her son Tony, daughter Jetty and granddaughter Mia.

Lisa gave special thanks to her husband Jim, whom she said has supported her in every choice she has made for the restaurant and never questioned her when she presented him with new ideas. And he never once said he has put up with me and all my ideas, and through two moves has never said, 'You wanna' move again?' or 'You wanna build what?' He just simply joined me on this journey and has helped me and supported me."

She concluded with an acclamation "let's go for another 50 years!" That led into a few comments made by the third generation of the family, Tony and Jetty.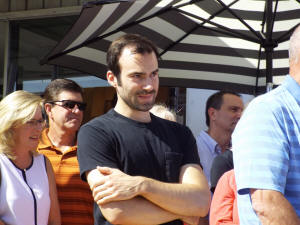 Tony began saying "Fifty years – that's a lot of pizza's but more importantly it is a lot of lives that have been reached. I want to say thanks to the community. Those relationships and friendships, all your support for all these years really means a lot."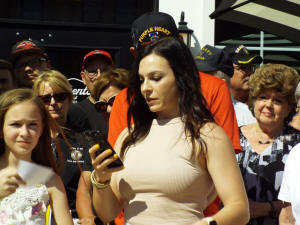 Jetty also spoke to the group, thanking everyone for coming to join in the celebration. She noted that Sorrento's has been a part of her life her entire life and she has eaten so much pizza, but isn't tired of it yet. She noted that she worked in the pizzeria even though she didn't always want to. Yet the pizzeria taught her many things. She remembered her grandparents and said her grandma never forgot a customer and knew what they ordered. She concluded saying that her grandparents and her dad would be very proud of her mom for all that she has done.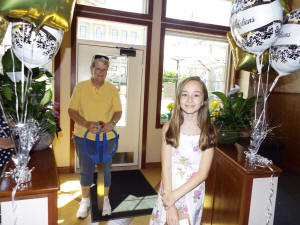 The next person to speak was the fourth generation of the family, Mia. Mia in recent months has started helping out at the restaurant and is very excited to be a part of it. She had a prepared speech that she had written herself. "My name is Mia and I am 10 years old. I am the granddaughter of Jim and Lisa Drew. I just wanted to thank all of you for coming to Sorrento's 50th Anniversary ribbon cutting ceremony. I have been working at Sorrento's for about three months now and it has been a great experience for me to be able to do so. I am so proud of the business. I am so thankful that we can all be here tonight."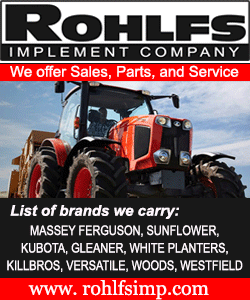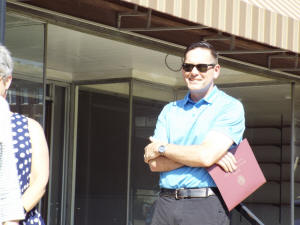 Slipping in after the ceremony had started was Illinois Representative Tim Butler. He was acknowledged and asked if he would like to speak. Butler kept it very brief saying that he had eaten a lot of Sorrento's pizza when he and his wife lived in Lincoln and they still enjoy it today.

Early in the event, Lisa had given praise to God for the blessings he had put on her and her family. To that end, she had asked that local pastor Ron Otto from the Lincoln Christian Church come in and offer a closing prayer of thanksgiving for the family, the business, and the community that supports them so strongly.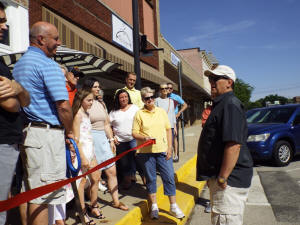 Otto began with a personal note saying that he had been on travels when he had an opportunity to mention to someone that he was from Lincoln and the person he was speaking to had immediately asked if Sorrento's was still there. He was happy to share that the restaurant and the family are still going strong in Lincoln, Illinois.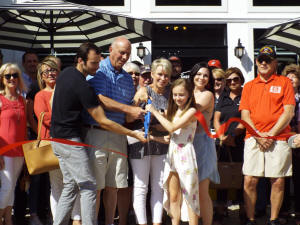 After the prayer, the Drews and Mia manned the scissors with Tony and Jetty nearby. After the posed pictures the crowd helped with the countdown and the ribbon was cut.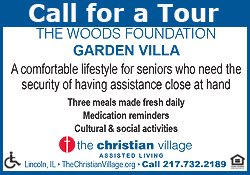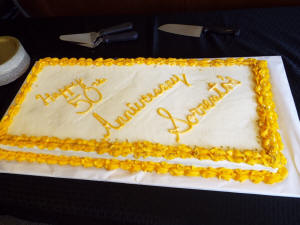 All the guests were invited inside for cake and Gelato, and a time of visiting and remembering the history of the restaurant and the family that has worked so hard to make it successful.

As part of their anniversary preparation, Lisa Drew spent time recently with Geoff Ladd of the Illinois Route 66 Byway. The Curcuru family history has significance within the Lincoln Route 66 history because their family came "down Route 66" to find their home in Lincoln.

Drew shared history as well as a couple of photos with Ladd.

Excerpts from that article written by Ladd are included below: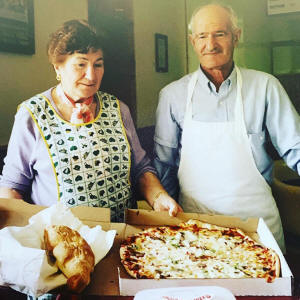 Giovanni and Anna (aka Mamma Sorrento) Curcuru opened Sorrento's Pizza in 1969. They came from the small town of Cinisi, Italy in Sicily. After Giovanni and Anna ran the shop for a while, it was passed to their son, Serafino (aka "Sammy"). He was the face of the shop for many years and was known for always remembering your pizza order and having sweet muscle cars. The restaurant featured family recipes as it does to this day, and provides "a taste of old-world Italian style" to downtown Lincoln.

When "Sammy" passed away in 1998, Sorrento's was left to be run by his wife, Lisa, and their four kids: John, Annalisa, Jetty and Tony. It was not an easy transition, but it very much became a family effort. Everyone played a part in keeping Sorrento's going as best they could.

Today, owners Jim & Lisa Drew, along with son Tony, manage the restaurant as a "family effort." Tony manages the kitchen and the social media, although it has been Lisa who has been providing incredible historic photos and stories on the Sorrento's Facebook page.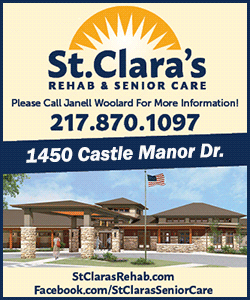 The family restaurant moved three doors down from their previous location in August of last year. With the new location, Sorrento's can accommodate several small groups, and large groups as well, including wedding rehearsal parties and family gatherings for the holidays (call ahead for bookings). The restaurant holds 70 people – twice the size of the previous location. The change in location has also increased carry-out traffic. Tony attributes this to the outdoor patio and the quaint inviting atmosphere on the inside.

"It is a testimony to the business over the years that our family-run business has touched a lot of lives," said Tony Curcuru. "We have seen a great response on our Facebook page as we approach this milestone anniversary." Tony has also started a Cannoli business on the side.

Owner Jim Drew says, "We all pitch in as a family member. I'm not home at night (he laughs)." His wife Lisa agrees. "It is a sacrifice to run your own business, but you have to love it. We enjoy the people as we remember the past and from our restaurant we hope to make their lives better."

Though the location has changed, the same delicious menu remains. The pizzas are made fresh to order with fresh ingredients, whole and natural, and contain no artificial ingredients. The dough is made fresh daily. Specialty pizza favorites include Sam's Light Pizza, Taco Pizza, BBQ Chicken Pizza. Calzone and Salads are also served. Holiday menu items are also rolled out during Valentine's Day and St. Patrick's Day.

Sorrento's has a large following of regulars from central Illinois, including Peoria, Morton, Bloomington and Decatur. With the return of Route 66 signage to the downtown, they have seen an increase in international travelers from countries such as Belgium, France, Germany and the U.K.

"We finally have the first alignment of Route 66 signed in Lincoln that traverses to the historic downtown business district, which is something that has not happened since 1929," said Geoff Ladd of the Illinois Route 66 Scenic Byway. "We are already seeing more visitors as a result, which benefits downtown businesses, and this will only increase as we approach the 100th anniversary of Route 66 in 2026."

[Nila Smith with excerpts by Geoff Ladd – Illinois Route 66 Scenic Byway]