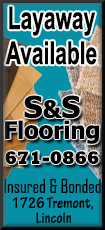 In Lincoln, one way to do that is through the Relay Recess Day that benefits the Relay for Life of Logan County. Students have a morning of fun activities while learning about cancer and its causes. They also learn how to live a lifestyle that will reduce their risk of contracting the disease. In addition to all that, they enjoy taking part in school fundraisers that can be simple or in some cases a little more complicated.

This year, the Northwest and Adams schools joined together for a Relay Recess held at Northwest on Wednesday, May 29th. Students from Adams were bussed to Northwest and arrived at 9 a.m. Then they joined the Northwest students for an assembly in the gymnasium led by Relay for Life volunteer Tammy Dietrich.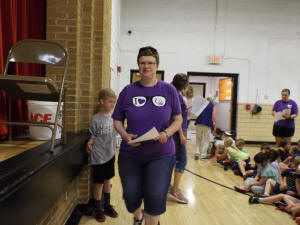 Early in the assembly Ms. Dietrich congratulated all the students on their excellent fundraising efforts. Adams School had raised just over $100 for Relay for Life.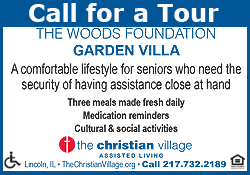 Northwest School raised $1,235.42. This included $70 raised on a teacher and staff Denim Day and $1,165.42 raised in the all-school coin war.

Dietrich explained the coin war. Students were asked to bring in pennies or paper money to put in the collection container. For every one cent in the container the classroom earned a point. However, there was a twist. Students from other classrooms could come into a room and place silver coins in the jar, and those coins took away a point for every one cent.

Mrs. Murley's class was the top earning in the coin war, and when Ms. Dietrich made that announcement, the hoots and hollers in the gymnasium echoed through the entire building. In the Coin War, Mrs. Murley's class earned 15,844 positive points ($158.44) and 7,055 negative points ($70.55). The net classroom points to the good then ended up being 8,789, but the total money collected in the container was $228.99. Ms. Abbott's classroom came in second with only 238 points ($2.38) separating them from the winner to end with a total of 8,551 points and a cash donation of $162.81.

Ms. Dietrich also said that her classroom lost. But, it wasn't for lack of trying very hard. Students put in 3,002 cents or $30.02. However, the silver money placed in the container equaled 4,105 points against the class, putting their final total in the red zone with a negative 1,103. However, the total dollars collected came to $71.07, which was still a very commendable effort for the classroom.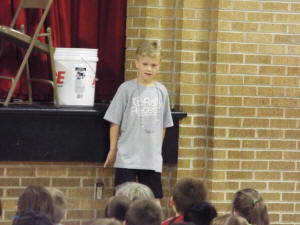 Joining Ms. Dietrich at the front of the room was her son John David. She said that over the years he has become very invested in raising money for Relay for Life, and has participated in Relay events when he was a student at Adams and now as a student at Northwest. She called on John David to assist with the recognition of survivors.

Before recognizing the survivors present, who work in the schools, Ms. Dietrich asked for a show of hands, how many students knew someone who has or has had cancer? A lot of hands went up, the majority. However, Ms. Dietrich said that in the room, every hand should be going up because there are cancer survivors working at both Adams and Northwest Schools and those are people that all the children know.
Then she introduced the school survivors while John David handed each stems of purple flowers. From Northwest faculty were Laura Ash, Debbie Freed and Matt Knight.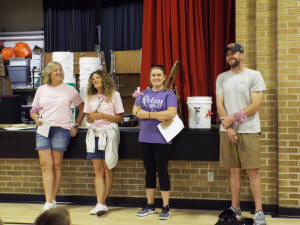 Left to right: Debbie Freed, Laura Ash, Kayla Finley and Matt Knight
There were no faculty survivors present from Adams School, but there was one special person who was recognized. Kayla Finley is a parent of an Adams School kindergarten student. John David presented her with flowers as well.

After the recognitions, it was then time for the students to split up and go to a variety of activities both outside and indoors.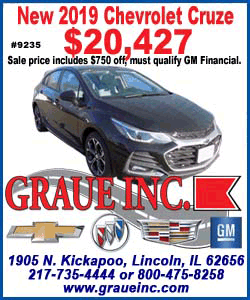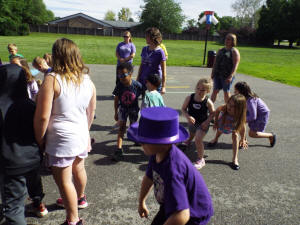 Outside, students had three activity opportunities including spinning the exercise wheel. The wheel was spun and when it stopped on a particular exercise, the students were to participate in the callisthenic. The first one was jumping jacks and the next one was lunges. Some students didn't know what a lunge was, so their instructor led them in the exercise until they were all able to get it down pat. The idea of exercise plays well into cancer prevention because studies show that people who are physically fit and exercise on a regular bases also eat healthier and avoid unhealthy habits. The three actions combined help decrease the odds that a person will get cancer.
In true Relay for Life form, other students were walking laps. For many this was a fun event as they teamed up and paired up with friends to talk, laugh and enjoy each other's company as they made their way around the track.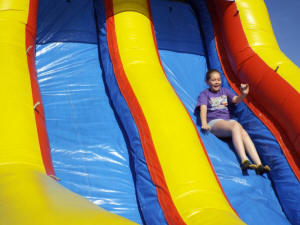 In another area of the playground an inflatable obstacle course was set up. Students were having a great time crawling through parts of the maze then climbing the 'hill' and sliding down on the other side.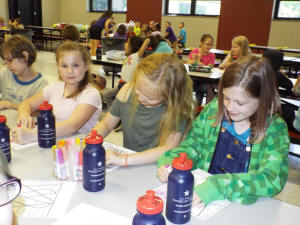 Inside the school another activity was coloring cancer awareness pages that will be hung on the walls at the June 15th Relay event at the Lincoln Center at Lincoln College.

A large selection of cancer related and Relay theme coloring pages were provided along with a guide to help students identify what colors stood for a specific kind of cancer. Many of the pictures featured the iconic ribbon associated with all cancers either as an accent or the focal point of the picture.

Because the theme at the Relay of Life event this year is based on the woks of Dr. Seuss, there were also pictures that featured the well known 'Cat in the Hat."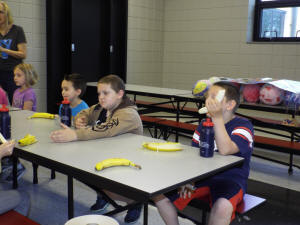 And of course, no event is complete without a little bit of food! Students had the opportunity to enjoy fresh bananas and bottled water as a snack for the morning. Again, the idea of eating healthy plays heavily into preventing cancer. The snack also plays along with the CATCH program food themes that include Go, Slow and Whoa. Go foods are fresh fruits and vegetables instead of sweets and fatty foods, and choosing water or fruit juices instead of sugary drinks and sodas.

All in all, it was a great fun day with lots of activities and plenty of opportunities to learn about cancer prevention and living a healthy lifestyle.

The Logan County Relay for Life event will be held June 15th at Lincoln Center on the campus of Lincoln College. The day will begin at 1 p.m. with a ribbon cut and the survivor walk and will end at approximately 11 p.m. with a brief closing ceremony.

The public is invited to attend the Relay event that will include a live auction, silent auction and other offerings hosted by the individual teams.

[Nila Smith]