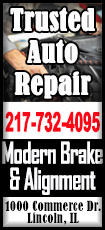 The event began with Superintendent Heather Baker giving an opening speech, encouraging the students assembled in the gymnasium. She said, "The school will be walking together to make a difference in the fight against cancer. We are determined that those with cancer will not be forgotten." Students talked about helping people get well and fight back and cheer them as they go.

Superintendent Baker then presented Caroline Motley, her neighbor and Relay for Life volunteer with a $503.38 check in honor of Motley's husband who passed of cancer.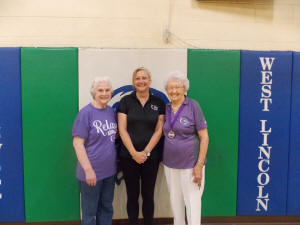 Carolyn Motley, Jannelle Jennings and Esther Boward
Motley, Boward and other survivors who were present were then invited to take the first lap around the gymnasium. Caregivers joined in the second lap. Then all the students joined the walk for the third lap.


"Relay for Life is an annual event and started 10 years ago (at WLB)," said Baker, "We have many faculty who have gotten cancer and we want to educate the students and raise money each year." "During the last three to four weeks, the students would bring in their spare change and give it to the cancer fund," Mrs. Baker said, "They were very excited about raising the money. They even looked on the playground for spare change."

Following the speech the students divided into groups to participate in the activity of making pipe cleaner bracelets with Esther Boward and Caroline Motley.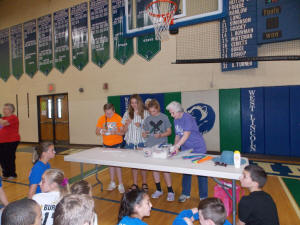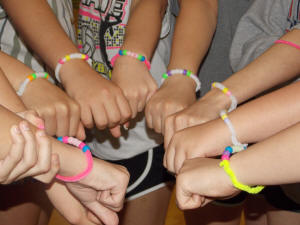 Caroline demonstrated that the white beads placed on the bracelet became a bright pink under the hot condition of the sun. She said, "you can protect yourself from the sun, that can cause cancer, by wearing short sleeve shirts and a hat. Sun block is helpful, but remember to apply it 20 to 30 minutes before going outside for it to block out the sun." She also mentioned that sunglasses were important to wear to protect your eyes.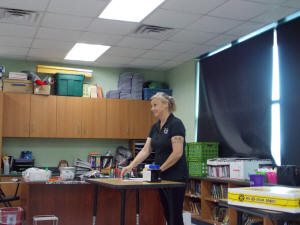 In a room down the hall, volunteer Janelle Jennings gave a small lesson to the students to educate about the effects of cigarette smoking. She said a pack of cigarettes that cost $8 would end up costing you $2,000 a year.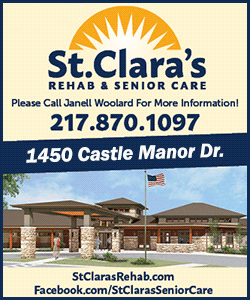 The elementary students concluded you could buy new clothes, a car, a fridge, get rid of a debt, but probably not a 'Lambo' (Lamborghini), instead of smoking.

Janelle said that seven minutes of your life is taken from smoking one cigarette. That is 51,000 minutes in a year. If that is not fatal enough - fifty people die an hour from smoking and on the average, they die 13-14 years before non-smokers. One out of five deaths are from smoking.

Jennings then gave a small quiz to the students.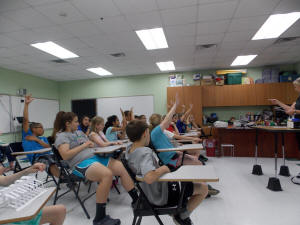 Here are three of the questions:

1. Does smoking affect the lungs, bladder, or bone marrow?

Answer: It affects all of these things in your body.

2. Do you actually relax when smoking?

Answer: No. Smoking triggers stress when the nicotine addiction wears off. Then you feel relaxed when you need another cigarette and get nicotine again.

3. What addictive chemical is in cigarettes? Is it lead, formaldehyde, or carbon monoxide?

Answer: All of these are in cigarettes.

According to the American Cancer Society (ACS), 80 percent of smokers start before the age of 18.

With the Tobacco 21 Law passed in Illinois one would think smoking has decreased, but no. Juules are hot on the market and replacing cigarettes. Janelle said, "The terrible thing about them is that smoking a juul is the equivalent of smoking 20 cigarettes at a time.

And be sure to know that vaping is just another form of concentrated nicotine inhaler and is very addictive."

Janelle said to be sure to watch closely the television advertisement about juuls. It is deceiving and nicotine is a drug that can cause cancer. She commented to the class, " If you don't smoke and the next class doesn't, and the next, then we can save many lives from cancer."

Quitting smoking is not easy and many students showed a real interest and hope that their loved ones will quit. The students asked what to replace cigarette smoking with, and Janelle answered to chew nicorette gum, drink water, eat twizzlers or pretzel sticks. Most of all keep your hands busy.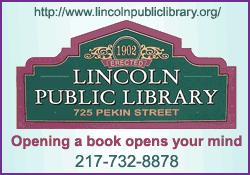 The math teacher, Mrs. Mammen admonished, "Now we can predict when you will die if you smoke. Almost up to the day. So why not save your life! Save your money!"

Janelle Jennings is also involved with 'Schools versus Cancer' that is a subprogram within schools where money raised is donated to Relay for Life and given to help all cancers and given to medical research.

In an LDN 2018 article, Janelle Jennings said that ACS helps to make important advances in prevention, early detection, treatment, and care through proceeds donated. Relay for Life is designed to accelerate progress for cancer - all cancers - ACS will double their annual research investment to $250 million by the year 2021.

[Catherine Carkulis]