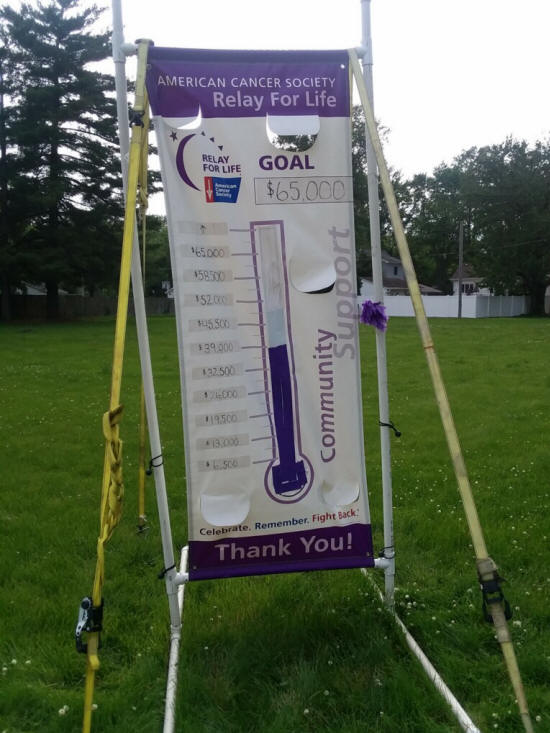 Logan County Relay for Life sets up fundraising goal meter
Still time for you to join in
Send a link to a friend Share
[June 10, 2019] Dennis Cooley with the Relay For Life of Logan County has erected a RFL Thermometer on the Lincoln College lot across from the main campus on Keokuk and Ottawa Streets. The money raised thus far: $35,500 has been noted on it and progress of donations will be recorded on the thermometer as they are posted toward this year's goal of $65,000.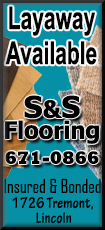 Other goals are 24 teams and 110 Sponsors (both of which are open for signing up to support)

Fundraisers in the near future that community support will help boost the purple line toward that goal are:

Wednesday, June 5 ALL DAY from 10:30 a.m. to 10 p.m. Culver's Restaurant in Lincoln will donate 10% of all sales that day (drive-thru, carry-out and dine in) to the RFL campaign.

A drive-thru Pork Chop or Rib Eye Sandwich sale will be held at the Lincoln Daily News site from 11 to 1:00 p.m. on Saturday, June 8.

Luminaria forms and information can be obtained by calling Bill Post (217-732-7564).

The Relay theme this year is "Relay for Life, Cancer: not here, not there, not anywhere" and is inspired by Dr. Seuss. It will be held on June 15th at Lincoln College from 1:00p.m. till 11:00p.m.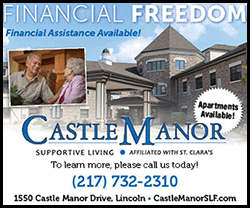 Invitations to the Survivor Dinner for Wednesday, June 12th have been sent – if anyone did not get theirs, call Tonita Reifsteck (217-855-1645) or Esther Boward (217-445-2627) co-Survivor chairs.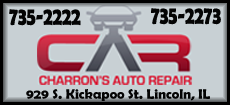 Reminder: Survivors can still register by calling 1-800-227-2345 or visit our website at: www.relayforlife.org/loganil. There will also be a booth at the ALMH Farmers Market each Saturday prior to the Relay.
[Tonita Reifsteck]