Railers terrific season comes to an end
Southeast clinches the Sectional Championship with a 66-43 win
Send a link to a friend Share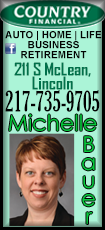 [March 09, 2019] The 2018-19 Lincoln Railers basketball season was a special one. The team that featured a starting lineup with one senior, who had very little varsity experience, and four others, with really no varsity experience, took fans on a wild ride all the way to the championship game of the Class 3A Sectional against the No. 3 state-ranked Southeast Spartans.

In the end the Spartans lived up to the hype. They are THAT good, THAT fast, THAT athletic, THAT well-coached. They put the Railers in a position they had not been in the entire season ~ down by about 20 points most of the game.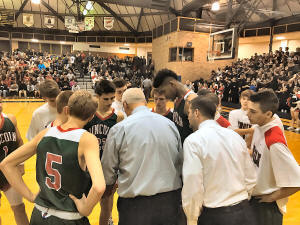 Lincoln had to call a few more timeouts than normal in the Sectional Championship with Southeast
The Spartans were a team that went 18-0 in the Central State Eight Conference this season and dominated opponents at home by outscoring them by 34 points on average per game.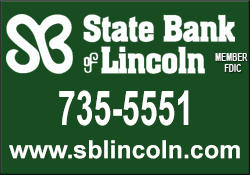 As Coach Neil Alexander said Friday night following the game, "One of the things you try to avoid playing Southeast is letting them get off on a quick start because then you're chasing them and you ain't gonna catch 'em."

The race on the clock begins

After Lincoln's 6'10 senior Jermaine Hamlin won the tip over Southeast's 6'8 senior Michael Tyler at Herb Scheffler Gymnasium Friday night, it was just a matter of seconds before the quick hands of the Spartans forced a Railer turnover and from here things escalated quickly.

The Spartans grabbed a 2-0 lead after Damon Davis scored the first basket in the lane and there was no looking back for Southeast.

Lincoln missed a couple scoring opportunities early and the Spartans took advantage. Deon Mathews hit a three, Terrion Murdix missed a shot but grabbed his own rebound and put it back in for two and then it was Tyler sneaking under the basket and catching the quick pass from Stepheon Sims for another quick Spartans bucket. A 9-0 run to start the game was the result and Lincoln was not used to this.

The Railers finally got on the board at the 4:00 mark after a long three from Kameron Whiteman swished through the net.

Whiteman hit another long three from the opposite side of the Railers court and at the 3:33 mark Lincoln trailed 9-6.

This close margin just fueled the Spartans offense and they quickly ran out to a 16-6 lead.

A three-point play from Jermaine Hamlin around the 2:00 mark sneaked the Railers closer.

Then a short jumper just beyond the top of the free throw line from Kaden Froebe pulled the Railers to within five points, 16-11 the score.

Southeast enjoys going on runs and they did just that to close out the first quarter. A 7-0 run was ignited by Sims with four quick points.

Mathews tossed in another three for Southeast. He had three treys in the first quarter. The Spartans led 23-11 after the first eight minutes that flew by quicker than a New York minute.

Second quarter

Murdix stretched the Spartans lead to 25-11 to start the second quarter. Then it was James Dent sinking three foul shots to give the Spartans a 28-11 lead. As the 4:00 mark approached the lead grew to 30-11 after a bucket by Devin Blue-Robinson.

Lincoln moved to a two-three zone and still that did little to faze the Spartans. Blue-Robinson tossed in another bucket and a 32-11 lead by the Spartans was impressive on this Railer squad.

Finally with 3:20 on the clock, Hamlin connected for two free throws and the Railers were back in the scoring column.

Hamlin completed another three-point play quickly thereafter and it was Lincoln trailing 33-16.

Froebe would get fouled in the corner with 1:44 left in the first half and he would sink both free throws making the score 33-18.

But for every missed opportunity by the Railers offensively from the field, the Spartans grabbed the rebound and usually came away with adding to their point total. To close out the half Sims and Blue-Robinson added baskets and the Spartans darted off to the locker room with a 37-18 lead over Lincoln.

Third quarter

Lincoln struck first in the third quarter on a baseline drive by Froebe.

That was followed by a 10-0 run by the Spartans. The 47-20 lead by Southeast was impressive.

It would take Lincoln a while to hit a shot from the field but when they did it was Whiteman launching a long three off the inbounds pass from Froebe, 47-23 the score.

Southeast stretched the lead to 50-23 but it was Lincoln getting the last five points of the quarter with under a minute to play.

A steal by Whiteman and a pass downcourt to the sprinting Froebe resulted in the lefty tossing in a layup.

Then it was Froebe giving fans what they love one last time in this spectacular 2018-19 season - a buzzer beater. Following a Spartans miss, Froebe grabbed the long rebound and ran past half-court with it and knowing that time was about to expire he tossed the ball up and hit nothing but net, much to the delight of Railer Nation, as the buzzer sounded.

[to top of second column]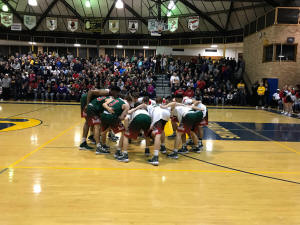 The Railers huddle before the tip versus Southeast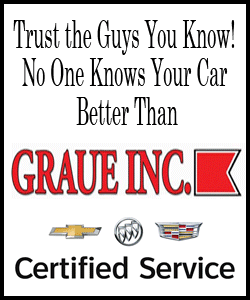 Southeast took a 50-28 lead into the fourth quarter.
Fourth quarter

Froebe didn't let up in the third quarter. He was on a roll in the second half. He connected for a corner three to get the Railers offense going early in the final quarter. He then hit the baseline layup and the foul shot that resulted. Froebe then went up and over 6'8 Tyler for the basket in the paint. Nice.

Froebe also managed to hit a couple free throws at the 3:00 mark and then scored off a steal seconds later. His 12-point effort in the fourth quarter was evidence of his grit and determination in the quarter, even with his team down by 20-plus points at times.

Will Ewald would complete the Railers scoring for the season with a three at the 2:17 mark and the Spartans lead was 62-43. As Railer Nation chanted, "E for 3" the Lincoln fans applauded just as loudly as if they were winning by 20.

The fan support never let up the entire game. Railer Nation is the BEST.

The Spartans finished the scoring and added a 66-43 Class 3A Sectional Championship win to their credit. Just a quick note, most people probably know, but Southeast lost two of their key players to injuries early in the season. What an incredibly talented team assembled by Southeast Coach Lawrence Thomas.

Kaden Froebe led the Railers with 23 points. He exploded for 19 points in the second half alone.

Lincoln finishes an amazing season with 27 wins and 5 losses.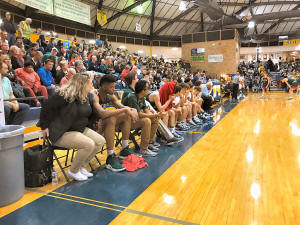 The end of the Jermaine Hamlin era. The senior sits on the end of the bench by trainer Missy Anderson as the game draws near a close.
After the game, Coach Neil Alexander spoke about the loss and had high praise for Southeast and Coach Lawrence Thomas. "They just pressure you for 32 minutes," said Alexander. "They don't let you get good shots and they don't let you run an offense. That's just their style and it's a very good style. They are very well-coached. I can't say enough about LT. He's one of the top coaches in the state of Illinois. He does a great job. He's got a good group of kids.


"You know, you take two starters out of there like he's had to do and they didn't miss a beat. They just keep going and doing things. There's a program there. It makes things pretty tough to beat.

"We haven't seen a team that quick all year, overall team," added Alexander. "We've seen some quick players, but overall how they recover and how they rebound.

"You know, Murdix, I've been around this area for 30 years coaching and he's one of, if not the best, pure point guard that I've seen come out of Springfield. When he goes out at half-court and starts messing with the ball, we got no chance. I thought we forced him into some turnovers towards the end of the fourth quarter but I think he just got a little careless. When you have a lead like that your focus can dwindle a little bit but he is an outstanding one. He is a pure winner along with Sims. Those two guys are phenomenal. They will not allow them to lose."

As for the Lincoln Railers season, Coach Alexander said, "We had a great season. You know, we're young and you can tell the difference between seniors and juniors. He had nine or ten seniors out there and we had five or six juniors out there. We got all those guys coming back but you take Jermaine Hamlin out of the middle of us and we become an ordinary team. So we hope that they'll grow.

"We've got to work on a lot of things but these kids are committed and they will do the things that we need to do to get better. I would've never picked this team winning 27 games being as young as we were and the inexperience of Jermaine. You know we lost everybody. Jermaine maybe played a half a year ago. And the juniors didn't play at all. So 27 wins was a great year for us."

Southeast continues their dominating season with a 30-2 record and the Spartans advance to the Super-Sectional on Tuesday night at the Bank of Springfield Center in Springfield versus East St. Louis. Tip-off is set for 7 p.m.

Stats

Lincoln 43

Kaden Froebe 23
Kameron Whiteman 9
Jermaine Hamlin 8
Will Ewald 3

Southeast 66

Deon Mathews 14
Terrion Murdix 14
James Dent 13
Stepheon Sims 11
Devin Blue-Robinson 6
Michael Tyler 6
Damon Davis 2

[Teena Lowery
Sports Reporter/Feature Writer | Lincoln Daily News
217.454.6419 | teena.lowery@lincolndailynews.com]
[© 2019 Thomson Reuters. All rights reserved.]
Copyright 2019 Reuters. All rights reserved. This material may not be published, broadcast, rewritten or redistributed. Thompson Reuters is solely responsible for this content.