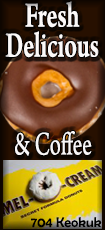 It's been that way for the couple since they began moving in earlier this summer. So, their soft opening ended up being an exciting opening, and one that let them know they were on the right track bringing Hot Frog to Lincoln.

Now, after the dust has settled a bit, the couple along with their five children is excited to celebrate their new business with a ribbon cutting ceremony at 10 a.m. on Saturday, November 2nd. The community is invited to come out and meet the Perschall family and share in their celebration.

Meeting with the Perschall's earlier this week, the first question had to be about the name. The answer ended up being a story in itself. Bob explained the personal meaning in the business name. Hot Frog stands for "Honor Our Ties" and "Fully Rely On God." Being raised in a Christian environment and raising his family in the faith, he explained that 'f.r.o.G.' has been a part of every endeavor of his life and putting it in the name of the family's new business was inevitable.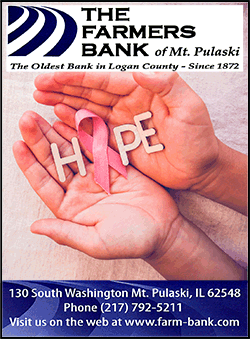 Also, as Sonja recalls, all through his life Bob's mom has given him frog figures and Bob has become quite the frog collector. In addition, Sonja says she has a favorite uncle whose nickname is Frog, so again, the word has been a big part of their lives.

But what is Hot Frog Designs? It is a printing business dealing with a wide variety of medium including signage and apparel. Bob notes that they will print on just about anything but paper. The business does items such as coffee mugs, signs and banners, tee shirts, totes, and much more.

They also do a special printing process called sublimation. With this process they use dyes to transfer images onto cloth. Bob said that this is a softer application and more durable than applique style printing. The store can also do this type of printing directly from photographs.
Bob pointed out a shirt that is on display that was printed in memory of a person who has passed away. He smiled and said that part of him feels bad about making money off of someone who has passed away. However, at the same time, the shirts are important to the friends and family of the person and mean a lot to them personally, so that makes it a good reason to do the jobs.
And, he points out, there are just as many "positive attitude" print jobs as there are sad ones. He noted that their first year in business, they have done a large number of pink shirts for October's breast cancer awareness and he's happy about doing those.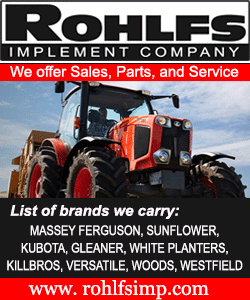 The Perschall's are from Hartsburg. They have five children; Kaitlyn, Sammi, Robbie, Mollie and Devin. Sammi is a senior at Hartsburg-Emden High School and on the volleyball team.

Bob Perschall said he got into the shirt design and printing while laid up from an injury. He first started doing items for Hartem Volleyball and BMX racing.

Bob is a construction worker by trade, but a leg injury then a rotator cuff surgery has taken him away from his career of 26 years. He purchased a craft cutter and started making items at home. The requests for merchandise grew and grew. The couple also started doing a craft vendor-style business creating cedar signs. They sold those at various events, and Bob said eventually they will work that offering into the mix at Hot Frog.

Sonja said that as a stay at home mom, she is learning to balance home, kids, and the new store and is coping pretty well with it. She said that at the store, Bob is the designer and printer; while she is the clerk, bookkeeper, inventory manager.

Two of the kids in particular are interested in the business. Bob said that Sammi is creative and interested in design for the shop. Twelve-year-old Robbie is into design but going his own route. Sonja says he works with duct tape as his medium, and is working to master duct tape wallets as well as other things such as duct tape flowers. When he gets it all figured out, Robbie would like to sell some of his wallets at the store.

The store has a variety of items on hand at the store that can be custom printed to suit the needs of the customer. In addition, they have access to a large number of items via catalogs. Customers can shop the store to find something they like, or they can go through the catalogs with Sonja and pick out the perfect items. Bob said they have very fast turnaround on catalog orders and they work hard to get quick turn around on the printing projects so customers can have their products quickly.

The community is invited to attend the ribbon cut on Saturday, November 2nd at 10 a.m. After the cut, be sure to step inside the store, take a look around and get to know the Perschall family.

We hope to see you all there!

[Nila Smith]